Big Sunday Dinner, what you cooking?

United States
6 responses

• United States
9 Aug 09
I live in Mexico and all week long we eat Mexican food and it's great. But on Sundays they like the grandpa gringo to cook! LOL! I'm a great cook and do some great meals, today I;m thinking a ham, potatoe, onion, casserole with cheese over it! I'll have corn, peas, apple sauce, and some homemade biscuits with chives. That should do it!

tdemex

• United States
9 Aug 09
Hey momma! That sounds so yummy! I am not cooking today! I just got home from my vacation on Friday night and today I promised my roomate/boyfriend that we could get some Chinese Food so he just left to pick it up! I had it three times with my mom because we both love it so much and were too lazy to go out to eat and she doesn't cook anymore and wouldn't let me cook either! She is going to be 79! But, he watched my cats, cleaned the house and blew out my tv! I still don't think that he deserved anything for the tv thing, but my mother said to treat him! So, I promised her I would! He better be paying for half the of the new tv that we now have to get!

• Canada
9 Aug 09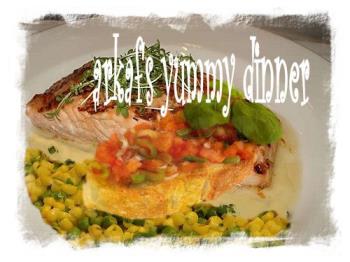 Well, I had plans to bbq something but it's been raining all day so I am changing my plans. Dinner will be grilled salmon, with corn, peas and salad. Lemon/butter/parsley sauce over. Brushetta on the side and I'm thinking chocolate mousse for dessert - Can't make a meal too healthy, needs some decadence to go with it LOL

• Canada
14 Aug 09
Visitors are always welcome :):) I already have plans for next weekend, hubby asked for rack of lamb with small potatoes boiled and then slightly fried in butter and lemon. Carrots and creamed spinach. Not sure what else I will make but the main part is already set:)

• United States
10 Aug 09
Yum, yum Lamb chops that sounds good. Well, in my family on Sunday usually is the "brunch" day. We gather in one family diner and have Brunch. As long as I remember my kitchen usually closed on Sunday. Except for Easter Sunday, it;s always my turn to have everybody have dinner.

• United States
10 Aug 09
My hubby did the cooking yesterday. He cooked venison in the crock-pot using a new recipe that involed apple juice/cider, canned beef gravy, package of dry gravy mix and crushed ginger snaps. To go with this he made mashed potatoes, black-eyed peas and italian cut green beans.

• Australia
11 Aug 09
It's Tuesday night here and I've had dinner already. I had a T-bone steak done medium well done and a helping of potato and bacon bake with regular potatoes and sweet potatoes. I was going to have mushroom as well but there were not enough to have them for breakfast tomorrow and dinner tonight. I'm having a lovely coffee now and about to watch one of mt favourite tv programmes.