Do you love FUNNEL CAKE?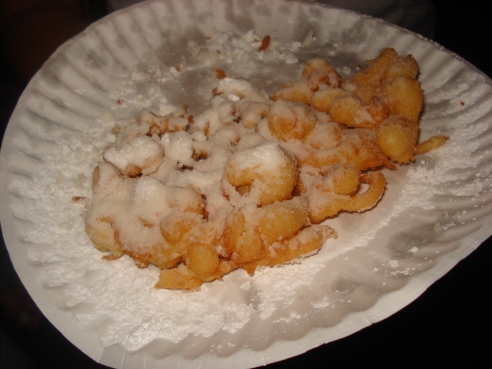 United States
August 11, 2009 1:06pm CST
I was introcuded the first time to this Funnel Cake. We visited the carnival, and he bought me one. And now every year I always try to look for any carnival going on just to get this funnel cake. BTW, funnel cake is a some kind of cake tyhat they deep fried, and the put in in the oil through the funnel after that done they sprinkle the fine sugar on it. Not sure what's on the batter but it's very yummy.
5 responses

• United States
11 Aug 09
I love funnenl cake it's so yummy I have the recipie for it. Ill give it to you its really easy and so good. 1 egg beaten 2/3 cup milk 1 1/4 c flour 2 tbs. sugar 1 tbs. baking powder 1/4 tsp. salt Beat egg and milk together. blend all dy ingredients. Beating constantly until smooth. Use 3/8 to 1/4 inch funnel, holding close to surface of oil. Drop batter in circular motion moving outward forming sprial. Turn once drain and sprinkle with powdered sugar. And enjoy

• United States
16 Nov 10
Oh I agree with you on that one the carnival ones are so much better and yummy to the tummy.

• United States
12 Aug 09
I've always wanted to try them. Only problem when we went to the fair we were on limited funds & there's never anywhere to sit & enjoy it & w/o the kids wanting to hock a chunk off for themselves. Now you've got me thinking I could figure out how to make one at home.... yummmm...

• United States
11 Aug 09
Yum, funnel cake. This is my one carnival food/or ballpark food weakness. I absolutely love funnel cake. The crispy brown outside paired with the soft, sweet inside is absolutely delicious and oh so bad for you. My best guess is that the batter is very similar to that of a waffle, but it completely tastes different when it is deep fried. We've made them at home a few times using our waffle batter recipe and they really tasted similar to what we can get at the fair for a lot cheaper. Anyone have a favorite topping for them? I prefer the powdered sugar but I've also seen them with cherry or strawberry topping as well.

• United States
11 Aug 09
I've never had funnel cake but it looks so pretty and delicious in the photos. One day I have to go to a carnival and try on.

• United States
11 Aug 09
Hello, I live in California and there are many place sell this cake, but I never try. I will try this weekend when I go to that place again. Is it really good? lolz... how silly I am, never try something new