Is T.V bad for toddlers?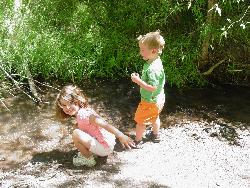 United States
3 responses


• United States
5 Dec 06
I think that it really can be. The shows that I let my child watch are the Wiggles, Teletubbies, and Veggietales. I think that it is really important to remember that even though they are young, they can pick up some really bad habits from the programming that they watch. Also, sitting in front of a television all day kind of tunes them out learning in real life. It impaires the development of thier imaginations.

• United States
5 Dec 06
i will switch on the cartoon network channel to my kid.she loves to watch it and she is learning lot from that.For example 1,2,3 counting,alphabets etc.Even to make her to eat her food i will use this magic TV for her.But my parents are always warning me about the effect of watching TV to eyes.So i will allow her to watch not more than 1 hour in a day.