Is there any thing that can keep my 1 1/2 yr old yellow lab busy, while my husband and I am at work for 8 hours?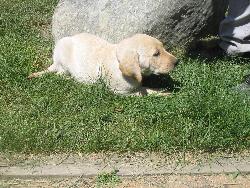 United States
November 13, 2006 10:01am CST
We have tried nylabones, and puzzle balls, is there anything else.
2 responses

• United States
6 Jan 07
I suppose you wouldn't want to get another dog so he would have a playmate,would you? Try leaving the radio or tv on for him. Mine seem to like old socks or shoes. I have four dogs and I am lucky enough to where they aren't alone very long at any time. But i think it helps that they have each other to keep them occupied.

• United States
8 Jan 07
We have thought about getting another dog, but not until we move into the country; right now we live in town and didn't think we should have 2 dogs in town. We don't let our dog roam the house while we are gone, so leaving the t.v on probably wouldn't work. Our dog stays in the entry of our house.


• United States
8 Jan 07
thanks for the website. we live in town, so we bring our dog out to our land in the country 2-3 times a week to let him run for about an hour to an hour and a half each time.