...And The Best Husband Award Goes To...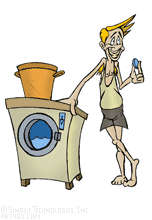 Australia
August 14, 2009 10:59pm CST
A U.K. study published in Journal of Population economics has come up with some interesting results in regards to husbands. The research deems Australian men as the worst husbands in the world and honouring Norway, Sweden, Great Britain, the US and Northern Ireland with the most attractive male partners. The study was carried out by surveying 13500 men and women from 12 different countries. The research is based upon the fact that unfortunate Aussie women have the men who are least likely to help around the house with chores, children, cooking, washing etc. and that; apparently, Scandinavian men are at the top of the best husbands in the world list. Weren't they Vikings once? Didn't they rape and pillage? I guess they cleaned up afterwards...(LOL) Seriously though; I have one of those poor excuses of a husband who happens to be Australian and I have to admit he is actually not that bad! Although he doesn't naturally gravitate to household duties, he will generally lend a hand because he cannot stand to see me unhappy or is it the nagging, not sure... Now my question is to the ladies, do you have a lazy husband? How do you administer enough self control not to hurt him? And guys are you a lazy hubby? Are you proud of the fact?
2 responses

• India
15 Aug 09
Hi paula! Intersting discussion and you have put a question to the ladies. If you have the patience to read a long story of mine regarding this, you please refer to this best response of mine-http://www.mylot.com/w/discussions/1383818.aspx?p=2 That has the answer to your question .If not, I 'll give you the answer here itself.Tell me if you could locate and read the answer.

• Australia
16 Aug 09
I read your excellent response kalav and I can see your husband is a very nice and patient man but what I don't get is this: when I was born did I have a label on my head that said, "Cook, cleaner, bottle washer etc.."? I am a person who is entitled to the same things my husband is and although I love him, I am not here to serve him and I want other things from my life as well. As far as I am concerned he is big and ugly enough to make his own coffee (and lunch...And dinner...) (LOL) Thanks for contributing to my discussion, I love reading your responses, thank you!

• India
16 Aug 09
Well I Can understand your point Paula, but as I had written in my AC article, ultimately we need peace and we all work for harmony within the family.So, if we have to do certain things it has to be in accordance with that.In many households Paula, even in India, men share a lot of housework, despite being the prime breadwinners.Women do have their share of work and the husbands do realise it.But, probably the remnant feelings of the cavemen where they did the hard work and the women did their share of taking care of household and gathering herbs etc..,is still in their DNA I guess. Women go out and do a lot these days and protests of these kind are heard louder and louder these days.Even when I was young, I used to argue and my mother used to advise me saying that it is not the done thing for us women to talk of equality too much and disrupt peace within the family.It is an old school of thought that also lends a bit of beauty to our arranged marriage system Paula.So, I am quite happy with this.I do not question authority when my husband is not exercising it.If he were to stand in my way through everything, perhaps I would also have protested.To fall within broad parameters and accepting the role of cook, etc, has become a part of our lives.What to do? Occasionally my son teases me that women were meant to do all this because it would immediatley put my back up and he winks later.


THanks for the nice words.I enjoy reading your responses too and the moment I see your name I always start reading it with anticipation.


• India
20 Aug 09
Did not realise that if a man helps with household chores, then he would qualify as the best husband. So if a husband has 4-5 girlfriend and does all household chores then he would be the best husband. Don't mean to be rude but such study/surveys are worth toilet paper.


• Australia
21 Aug 09
You are probably right! (LOL) A lot of surveys etc. are quite meaningless. I took this particular one tongue in cheek; of course there is a lot more to a man than his ability to perform housework, or at least I hope so; as I said my husband is not perfect in that area but his many great qualities certainly outweigh that problem! Thanks for sharing your views VANILLAREY!