Usain Bolt Takes The Reign Of King Of Sprints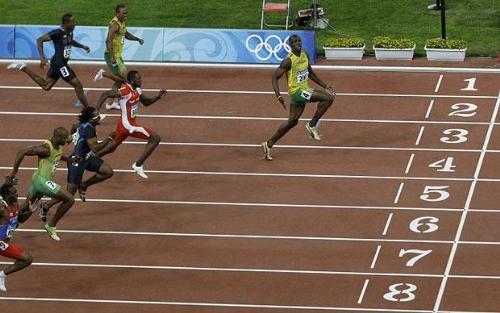 Singapore
August 17, 2009 3:16am CST
When I first saw him competing at the Beijing Olympics last year in the 100m Mens Final, I said to myself, he is certainly going to be the talk for the IAAF World Meet 2009 to be held in Berlin. I do not know if any of you saw how he awed the world at the Bird's Nest Stadium in Beijing in a world record time of 9.69sec. He just look so casual, swift and effortless. As such he was remembered for his infamous glance before the finish and untied shoe lace, too. It was where he was later criticized by the IOC Chairman for not giving his full effort in that race. At the end of the day, the world including me was left wondering just how fast can this athlete really go with his shoe laces secured and going 100%. Well, the answer is a blistering 9.58sec. and another world record. Yes, Usain Bolt has done it again and blitz the field of 100m Men's Final sprint in Berlin. Prior to the event, American's Tyson Gay, triple world champion in the sprints two years ago, had been deemed the one to upset Bolt but when the starter's gun sounded off, Bolt really made a point about what the term all talk is all about. Yes, the talked about great challenge just did not match the words at the end of the day. With the event just over, I am left wondering what will be the next timing be when he competes again. Well, everyone is going to look forward to 9.4secs., as claimed by Bolt himself where the record will stop, after the meet interview. What do you think? Will Lightning Bolt a.k.a. King of Sprints make it? I think it is just possible looking at the rate he is running, sure makes you look forward to the next meet isn't it? Ref: http://www.dailymail.co.uk/sport/othersports/article-1206991/Superman-Bolts-world-King-sprints-smashes-record-win-gold.html Video: http://video.sina.com.cn/sports/o/v/2009-08-17/062629983.shtml
2 responses

• Jamaica
17 Aug 09
The whole Island watched him run. We are so overjoyed and delighted in his success. However, we were also annoyed at he snide comments made in the Olympics when he looked back to see how far the others were behind him. How dare the Chairman criticise him!

This young man was a boy from an underprivileged background who has achieved so much. He just loves running as the exuberance with which he runs is a delight to see. So what did he do wrong? He was running and like other kids just looked back to see how close was his competition! That's all his did apart from his 'gully dance' which was the local dance on the Island at the time. He was not born on the soft side of the blanket and has difficulty in articulating himself so he does it by showing his joy in a different way. This is his time - for a while. The world should allow him to enjoy this moment of fame and rejoice with him. Will he break hs own record? i don't know but I do know that he will have fun trying.



• Singapore
17 Aug 09
cynthiann, I am happy for your fellow countryman's achievements and his successful runs. He is indeed the talking phenomenon for this century and I just do not see anyone coming close to his records at least (maybe) another 96 years. It is indeed a joy to watch him run and create records after records. However, I think I should set the record straight with regards to the IOC Chairman's remark or rather critic. I do not think he meant any misdemeanor as I feel he is right in saying that Bolt should be keen and dedicated to his task. For him to glance and "slow down" on the finish could be misinterpreted by other competitors and the spectators as egoistic arrogance and insult to the other runners. Also, there is the issue that his action might cost him the race, I mean what if he were to trip or fall as a result. He might even injured himself seriously. I think the comments were meant for the good of everyone. Hope you could understand the objectivity of the Chairman. Whether the next run will be faster is left to be seen and as disclosed by Bolt himself, I feel he just might go faster than the present timing. But until that happens, we will have to wait in anticipation.

Have a nice day ahead and hope there will be a great celebration back at your place.

• Jamaica
17 Aug 09
I am from the U.K. but have lived two thirds of my life out here and my children and grands are Jamaica. Arrogant and egoistical he is not and I do hope that he will never develop these qualities. But athletes can become arrogant. To understand him you would have to understand the culture from which he came. I cannot say more ion this as it may be interpreted in a different light from what I meant. anyway, we both agree that at present - he is certainly the best.

• Jamaica
28 Aug 09
How dare you cynthiann to say that Usain is from a underprivileged background. Have you see the way Usain was grow up. May God because you are in the UK you think that you have the right to talk the way you did. I know that you ain't Jamaican because the way you just discriminate us. Underprivileged my back foot. Most of us living in Jamaica are living better life than those who are living in the UK.

• Guangzhou, China
18 Aug 09
Lately I learned that Usain Bolt broke the world record again. It is so amazing. When he broke the world record in the Olympics Games in Beijing, it was already fantastic. He broke this record again in such a short time. And he said he would break another record again. I look forward to it. I love China