Do you prefer hardwood floors or carpet

United States
August 17, 2009 9:01pm CST
I really like carpet I think it makes the room feel very warm and comfortable.When your walking bare footed a nice fluffy carpet feels nice in between your toes. I just moved out of an apartment that had hardwood floors threw out the whole house.It felt very cold ,even with area rugs. So what do you prefer carpet,or hardwood floors?
11 responses

• United States
18 Aug 09
My floors are all over the place! I have wood floors, carpets, but my favorite by far is the rock floor in the kitchen. Warm water circulates beneath the floor so it nice on the feet. I don't mop - I hose down a drain where the water is filtered and recycled to use in the clothes washer. I wouldn't give up any of my floors. Combinations work for me.

• United States
18 Aug 09
Wow that kitchen floor sounds real cool. I have never herd of a floor like that. I bet it feels great on the feet.Now that I think of it combination is nice to.

• United Kingdom
18 Aug 09
I prefer a hard floor because it is easy to keep clean and it looks so lovely to have it throughout the whole of my house except in my bathroom and in my shower room. It looks just like wood but it is laminate. I have put carpet on my stairs and it now looks tatty. I will have to replace it soon.

• United States
22 Aug 09
I have had an apartment with hard wood threw out . I do admit it does look beautiful . But for some reason it just does not feel homey to me.

• Indonesia
18 Aug 09
You are true, use the carpet indeed is felt comfortable and colder. In my house although the floor uses the plank but I cover with the carpet all over the room so as to appear more comfortable and cool. I like the carpet that is clean because when I am tired occasionally I can at once lie on the carpet.

• United States
21 Aug 09
Sounds nice and relaxing . I just moved and now have a carpet to lie down on. I missed that for so long.Have a great day

•
18 Aug 09
I like both materials, but it really depends on where it is placed. I prefer hardwood flooring the the family room/living room, wherever the guests are. Hardwood floors are also good for hallways. However, for bedrooms I like carpet because I barely spend any time in my room so the carpet stays fairly clean.

• United States
18 Aug 09
I like my carpet to be in a dark shade with children. My apartment befor the last place the carpet was a pretty dark green. It went great with my green leather furniture.The apartment had carpet throughout.

• Malaysia
19 Aug 09
I would love to put hardwood floor instead of carpet in this house. I think it's easier to maintain and clean. Carpet love to accumulate dirt and absorb water. It will leave stain and hard to clean. Nice fluffy carpet that you mention can be place in the bedroom as people won't step on it so much.

• United States
22 Aug 09
I no what you mean by keeping your carpet clean. With kids I have to have my carpet cleaned every 6 months. Hard wood is a bit to maintain. I had to mom every week with my kids. I tried to have people take there shoes off at the door. It worked for a while. And guest were not to into that.

• Pasay, Philippines
19 Sep 10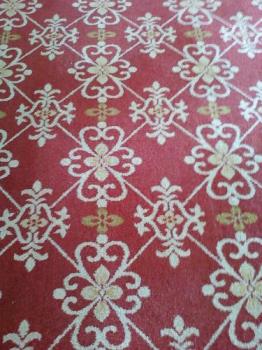 Since we are living in Manila it is impossible for us to have a carpet for the whole bedroom. I could imagine how hard to maintain the cleanliness and as of now we can't just hire a maid. Of course we don't want to spend for vacuum that much. But I could still imagine how does it feels like to have a carpet at home or even in bedroom that you can step without your foot wears on.

• United States
17 Feb 10
Hi, hunnie1979. I guess being in my current situation as of now. I prefer to have carpet on my floors. I like feeling the soft carpet underneath my feet. But, I don't like walking without my socks. I love wearing my socks. I gotta have these on with carpet being on the floor.

I also like having carpet because of my kids. I don't want them to hurt themselves by falling on the hard floor.

• United States
24 Jun 10
Yes i no what you mean . Carpet is all ways a plus with kids.You cant go wrong with something soft underneath your feet.


• United States
21 Aug 09
I just moved out of a apartment with hard wood , The house just felt cold to me. Now I have a house with carpet,except hard wood in the kitchen. My house feels warm and cozy now.

•
22 Aug 11
I prefer carpet because i always slip on hard floors.

•
23 Apr 11
I looove carpet!! I love how soft it is and the look of it. It's kind of crazy because I currently live with my parents and there is absolutely no carpet in this house. I would love to have carpet in my future house. I will be moving to Cali next month and definately want mostly carpet for my apartment.