Learn - driving expedition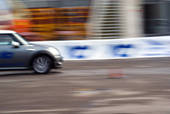 India
August 21, 2009 11:19am CST
I had this first experience of taking a santro with power steering on highway and almost hit a sppeding truck.I had enrolled learn driving at a very early age. I could never take all things together, the accelarator, gear, break...I wish I had one more leg..I know of friends who used to keep a brick on the accelarator!!!After many attempts I gave up. Jus tbefore marraige, I wanted to have a driving license as I didnt want to depend on any one to drive for me...It was an ordeal...After setting all the things inside the car right, I was petrified to take a test!!! I let that year go too...Finally after two -three years of practicing I applied again...Im still to clear it!!!:( What are your driving stories both before and after learning....also any funny incidents while you were learning???
1 response

• Greece
21 Aug 09
Hi Malpoa, good luck with passing your test this time, keep at it. I failed my driving test the first time and it was really nothing to do with my driving. The instructor took me to the building in his car to sign the papers then I went back to the car with the examiner to take my test. Well to me one car looks just like another,( I only recognise mine now by the red mud on it), and went to get into it. So I got into the drivers seat ready to take my test and thought to myself, why is there a pram on the back seat. I'd got into the wrong car but the same colour. That didn't go down to well. Personally the idiot should have locked the car so I couldn't have got into it.


• India
22 Aug 09
Hi hi i still didn tpass the test!!! I am not sure when I will do it. Actually the thing is I lost my father to an accident. He was on his two wheeler on his way to our paddy field. A cyclist came in opposite and wrong direction. It was sudden that he tooka sudden deviationa nd by doing that his spectacle fell. He bent down to take it and a lorry came and hit him...Many people gathered but no one was interested in taking him to hospital, by the time one of his friends saw him it was too late... So when I am on the driving seat and I see huge trucks especially red coloured ones, coming my way, I simply take my hands off the steering...

• India
9 Sep 09
Yes I know I shouldnt depend on someone to drive me around!!! But the thing is even if i sit with the person driving and I see large trucks or red colour buses, I panic... I hope I overcome it soon...I have set a last target to learn driving, but I wont say the date it is a secret hi hi