to make problems a littler lighter to carry

Lapu-Lapu City, Philippines
August 24, 2009 9:40am CST
No one will ever say he has no problem, especially now that we are still in financial crisis. Parents like you and me, usually gets tired of thinking how we can solve our biggest burden, and whatever it is, how big it is, we hope it will get solutions, soon. Good thing for parents, is to have at least a kid in the house that entertains us with his activeness, playfulness, naughtyness, etc. And for kids, I wish you will not keep the burden more heavier. You can make it a little lighter for your parents to handle it. Anyway, I want to share what I have just posted in my blog. Please check the video at this non-referral link: http://neildc-magiting.blogspot.com and tell me what can you say. Thanks to all...
4 responses

• Philippines
25 Aug 09
I know what you feel, and you are right.. No matter how tired we are as Parents in our Financial distress and problems in a day to day basis, We are still fortunate to have kids at home, because with them and with the hugs and smile and the joy their bring to us seems to lighten the burdens that we carry... I have a child, my eldest with Asthma and I can feel what you feel about having a child with illness. I just hopoe and pray that The GoD Almighty will always GUIDE us. God Bless!

• Lapu-Lapu City, Philippines
25 Aug 09
sorry to hear that your child also suffers with asthma. actually, last year, all along we thought that it was asthma. but when i heard about snoring in babies and sleep apnea, all from mylot, even doctors set aside the asthma thing with our kid. that is why we want him to undergo sleep testings. yes we hope that help is soon to come. thanks...

• Philippines
25 Aug 09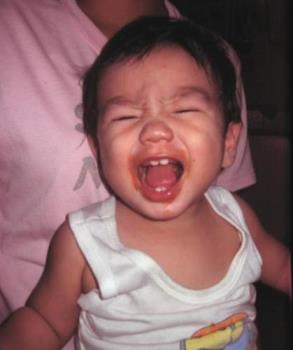 that was sooooooooooo cute. clap clap clap. i have four children but they are all teens aleady, but right now we are living with my nephew and he is 11 months and soon be celebrating his birthday. he makes us feel alive, makes us laugh most of the time. parents should be extra patient if their chils has disorders and i salute on parents like you who takes a heavy burden with a smile

• Lapu-Lapu City, Philippines
25 Aug 09
and you too for raising 4 children good.

sometimes, even with the hardship parents like you and me are experiencing, these kids just let us forget the problems we have. keep smiling my friend. and keep posting...

• Philippines
24 Aug 09

unfortunately, I am still single. but i can understand how hard it is not to sleep straight when you had to monitor your son's sleeping.and i thought tired and fatigue people get this kind of sickness. keep on praying for your kid, god has a will and a way. just remember that they're other parent's kids who had it worse than your kid, so i think that way you might still feel blessed.


• Lapu-Lapu City, Philippines
24 Aug 09
thanks a lot buddy. even if you are not yet a parent, i know you have nieces and nephews that sometimes entertain us like that of my son. i guess you also have younger siblings. thank you for being understanding, even we just met here not so long ago. i hope other people here will also find time to read more about my son before taliking not so hirting words.


• United States
24 Aug 09
I didn't think I could ever love a child I've never met more than I love little Zyruz! Neil, those videos are precious!!! That boy sure can dance! What a little sweetheart!!! Those videos have given me another idea to go along with what I told you before, although this second thing will be a surprise. I won't tell you what it is, yet. All I can tell you is that I think Zyruz will like it. Let me get back to work on that issue that has been plaguing me for 7 years now. I intend to start sending my disability story to the entire country, beginning with major newspapers across the country. I have my story written out and have the email addresses of dozens of major newspapers. Hopefully, it will shame our Social Security system into doing what they know is the right thing. It's funny, but I got an email today with my horoscope in it and it said that I would be having a very emotional day today and, so far, that is very true! I'm hoping that, by the end of the day today, I will have some good news for you. It probably won't come that fast, but I'm hoping anyway. Thank you SO MUCH for sharing those adorable videos of your son. He truly is an angel. I grinned so big while watching those videos that my cheeks started hurting!


• Lapu-Lapu City, Philippines
24 Aug 09
so far, these is all we can do to thank Auntie. If we have more, it will also be posted at the blog site. we will always treasure times like those in the videos and as long as cam is available, we will capture it. the clips don't look so good as we don't have a true video recorder, but with phone cam, it is best than nothing to share with you. always take care.