Computer Geeks tells her secret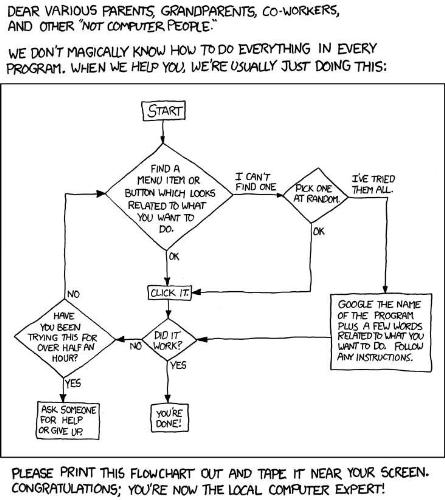 United States
August 24, 2009 1:45pm CST
The attached picture says it all. One of the most common questions I am asked as an IT professional is "how do you know all this?". Honestly, I don't, when in doubt Google it, the answers are out there it is just a matter of knowing how to find them. A friend sent me this flow chart and I thought it was perfect. Please let me know if you have any questions.

Let me know if you don't have questions too, that means the chart works. :D
1 response

•
24 Aug 09
My mom sent me this today as my fiancee is a computer geek! He is a computer analyst for a living... I intend to print this out, laminate it and give it to him as a little present - "See honey your job isn't so hard!" Then I intend to run VERY fast! I must admit however, that the advice on it does work - because you can solve most things yourself by using this and online help... which is what I usually do despite having a resident "expert!"

•
24 Aug 09
It is accurate... I use the route through it most of the time when I can't get something to work. But then I refuse to read the "guides / instructions" that come with most things as I prefer to work stuff out for myself - that way I feel that you learn more! Now I am getting my running shoes ready...