Future Craft Project?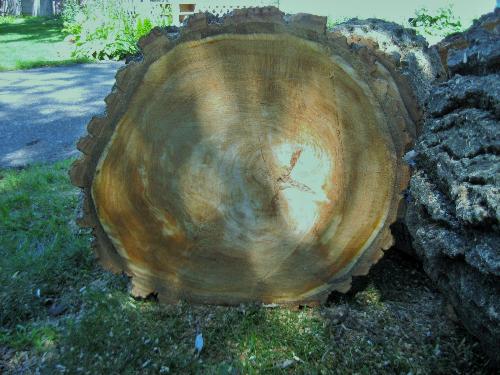 United States
August 25, 2009 3:44pm CST
This photo is of a piece of the trunk of my Cottonwood tree I had cut down today (8-25). It measures 22 inches tall and 26 inches around at the largest spot. I want to make something out of this. I have 2 ideas right now. One would be a game table with a checkerboard on it. The other is maybe a plant stand for the house. Now, do you know what preperations the trunk needs to do this? Can it be safely used indoors after it has been dried out completely and made into a table? Have you ever worked with a tree trunk before making tables etc? All tips, hints, and ideas are welcomed. HAPPY POSTINGS FROM GRANDPA BOB!!~
4 responses

• St. Catharines, Ontario
25 Aug 09
Well, I guess you just answered my question from the other post... After it's dry, it's just wood, same as you would buy from the lumberyard, so whatever you would do with store-bought, do with your tree trunk! (Helpful, aren't I?)

• United States
25 Aug 09


Thanks a bunch.

HAPPY POSTINGS FROM GRANDPA BOB!!~

• United States
31 Aug 09
You could also slice off a chunk of it and use it for a clock...they sell the kits for the hands etc at hobby shops....maybe varnish it before you put on the face but it would be a constant memory everytime you looked at it and also it would be functional.

• United States
26 Aug 09
we had a good size chunk of oak we used from a yard tree..we just debarked it and let it dry,then worked it and sealed it later. other than that,it was pretty cut and dry.you just have to keep in mind it may shrink a wee bit while drying out and make sure it's not drying too fast (like in a very hot room) or it may split in places.

• United States
20 Sep 09
I'm not sure what you need to do with a tree trunk before it comes into the house. I know someone in Wi who actually made kitchen counters out of huge tree trunks. All he did, I think, was cure the wood and put several layers of polyurthane on it. I had a White Ash out back that got struck by lightning few years ago that now serves as a table for a huge pot of flowers. It's near the garden so it also gets used as a catch-all for garden accessories.