Describe the best meal you've ever had anywhere??

Canada
August 27, 2009 4:18pm CST
I don't know anyone that doesn't enjoy eating food, whether it's the taste, smell or preparation of it. But do you remember the last best meal you had? Did you make it yourself or did you try a new restaurant? This is hard question for me because I am a self proclaimed gourmand, or "food snob" as some people would say. I had a dinner party recently (always having those), anyway I had no idea what kind of food my guest's would like so I kind of guessed at the meal. I made Thai chicken & vegetables with aromatic peanut sauce, over orange jasmine rice, fried coconut shrimp. Desert was grilled pineapple slices with chocolate sauce drizzled and some cut up watermelon. Oh and I just made a pitcher of sangria to wash it down with.
6 responses

•
27 Aug 09
I remember the best... and the worst.... The worst was recent... and it was BAD The best - a steakhouse in Texas that I was taken to on holiday by my friends, the steak was cooked to perfection and the baked potato I had it with was so light and fluffy... Simple food but done VERY VERY well!

• Canada
28 Aug 09
Hey mistywood, Sometimes it is the simplest food that we remember the most. I do like steak occasionally, if it's done really well done and with a grilled prawn skewer on the side. Do you know that they say it takes something like a week for your body to digest beef? A nurse friend of mine told me that.

•
30 Aug 09
I have added some pictures of the most amazing chocolate pudding I had in the UK... but I am not sure how to add them to here.... :o(

•
30 Aug 09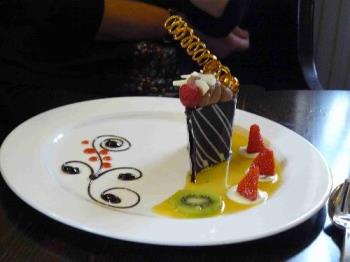 This is the most amazing chocolate pudding I have ever eaten - it was a work of art and I felt really guilty eating it... But it was so delicious! Luckily I had my camera with me as it was a celebration and I managed to at least keep a picture to remind me!

• United States
28 Aug 09
The best meal i ever ate anywhere was at my bigmama's table. She was a wonderful cook. I loved anything she fixed especially her fried chicken & fried corn. i'd give anything to be able to fry corn like she did but i can't. She made the best chocolate cake w/fudge icing that i ever ate. No meal i ever ate anywhere would compare to her cooking.

• Canada
28 Aug 09
Hi antiquelady, I have to ask this because I've never heard of frying corn? Is that a Southern tradition? Do you fry it whole or cut off the kernels and fry that? Is it with a big pan of oil? Oh I'm a sucker myself for anything chocolate you name it....

• United States
28 Aug 09
HI THERE, Yes, it is a southern dish, i'm from Tennessee. U CUT THE CORN FROM the cob in 2or 3 cuttings, i always like scarape the cob at the last. U put fried meat grease or butter in a skillet, add enogh flour to mix in toyr gease , pour the corn on top of that w/a little water, add salt, pepper & a little sugar & let it cook. It's yummy,

.Thanks for asking, hope u will try some.

• Philippines
28 Aug 09
i am as i can say a good cook. i learned it from all this years and see it from tv and adding my own style. my children also grows to be interesting in cooking they started on helping me with preparing and now can cook simple but tasteful dishes. but of course we still eat out if the budget allow. i guess the last best meal we had outside was spinach lasagna and the best meal we did at home is MECHADO, we have fun preparing it and eating it as well.

• Canada
28 Aug 09
Hey friend! That's really important that you've taught your kids to cook because that way as they grow they'll be self sufficient and can cook after themselves and won't be wolfing down junk food like some people do. I know that when I was growing up, my mother insisted that my brother and I learn how to cook for those reasons. She said whether you get married or not, everyone should know how to cook and I agree, well I guess unless you have a personal chef or something but most people don't. I've never tried spinach lasagna but would love to try seafood lasagna one day. Mechado? I think I've heard of that but never tried it.

• Philippines
29 Aug 09
they are all teens already and i am proud to say that they can cook. spinach lasagna i cant cook that HUHUHU for i dont have an oven. but it does really taste good. an off to the usual meat lasagna. you can find recipe of mechado on the net. if you love food with tomato sauce then you will love this one. good day

• Greece
28 Aug 09
Hi ilyzium, although I like my own cooking very much I do rather tend to remember the taverna meals more, as it's so much nicer to enjoy a meal without having to think about clearing up after it. So the best taverna meal I had recently was grilled octopus served with a balsamic and honey sauce. I like to eat octoupus out rather than grapple with the things in my own kitchen, and grilled octopus does tend to vary from place to place, but this one was beautifully tender and cooked to perfection. It is also unusual to recieve any sauce with it at all, normally it just comes with a lemon. We had a fresh mixed salad alongside and fresh marinated anchovies with chilli. I think we'll be returning quite soon.


• Canada
28 Aug 09
hi thea09, Oh that does sound good. I can't say that I've ever had octopus prepared that way, it sounds fabulous though. I've never made octopus at home, the closest thing to that I've made is calamari, squid salad, and stuffed squid-absolutely amazing dish! But I adore Greek food as well and have made many dishes at home, especially the cheese filo pie, baklava, the yogurt/cucumber soup, avgolemeno, dolmades, grilled lamb, etc.

• Indonesia
28 Aug 09
Hmm looks like interest. In a urgent time i was creatively to cook something that i thing it is good for breakfast, lunch, and dinner together. I just make the chicken spicy with strawberry jam. Lol it was strongly stranger for people but for me it taste not bad. I combined with garlic mix into meet cake. For dessert i mix some biscuits with jelly and topping by whip cream and caramel.

• Canada
28 Aug 09
Hi forfuture20, That is the one of the more unusual combinations I've ever heard of: strawberry in a chicken dish? Is that one of your own recipes or someone else's? I've heard of chocolate with chicken, but strawberry jam? Well, I guess as long as you liked it and ate it. ;) I love those ingredients you used like strawberry jam, whipped cream and caramel though, but for me I'd keep them with sweets.

• United States
27 Aug 09
Well my favorite food is lobster so when my dear friend and I decided to have a sea food fest then that'd have to be the greatest meal ever. We had lobster tails, crab legs, shrimp, scallops. It was awesome! Expensive but awesome!