13Yo Girl plans solo round the world sailboat trip...

Omagh, Northern Ireland
August 29, 2009 2:31am CST
http://news.bbc.co.uk/1/hi/world/europe/8226196.stm Laura Decker had her own boat aged 6,and has been sailing solo since age 10...now at 13 She's planning a Solo circumnavigation of the world in the wake of 17yo Soloist record holder Mike Perham this week... State Authorities in the Netherlands however have taken her into care for evaluation over the next 2 months.. What do you think of this case? She's too Young? or Dedicated enough?
6 responses

• United States
29 Aug 09
I think she is too young. it is simply too dangerous for someone of her age to be alone on a boat for such a long time. What if something happens to her?

• Omagh, Northern Ireland
30 Aug 09
The 17yo I mentioned who now holds the Youngest Circumnavigation record,although in sole control of his own boat,had a support boat along with him for the trip..I'd hope the 13yo would be at least as well supported!

• Canada
30 Aug 09
That's a big question. Is she going to get the same kind of support the 17 year old record holder got. If she is, I do not understand why this is being objected to. Only problem is no one is saying anywhere that I can find that there will be another boat following her.

• Omagh, Northern Ireland
30 Aug 09
The Article didn't give any details of the Plans for her trip-my concern was with the mention that She had been taken into State Social Worker care for evaluation for the next few months-Her Parents seem to be totally supportive of Her and her Ambitions,so what concerns would exist as to her psychological wellbeing?


• Israel
9 Dec 09
I was very interested in your news article, but the link is broken. Can you repost it? Thanks a lot!

• Omagh, Northern Ireland
9 Dec 09
Sorry that the original link doesn't seem to be working any more..here's an update I found!

It Looks as though things aren't going as smoothly for her ambitions of adventure on the high seas... http://news.bbc.co.uk/1/hi/8227250.stm

• Omagh, Northern Ireland
3 Aug 11
Checking in on my older discussions,I'm currently reading a wikipedia article that mentions the previous objections to this planned Journey have been either overruled or deferred,and the Journey is in progress at this time,She's currently Heading towards Australia...


• Omagh, Northern Ireland
7 Sep 09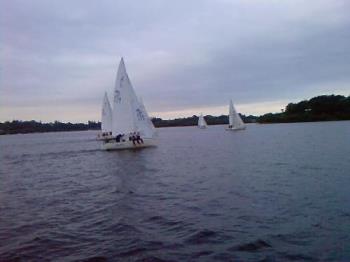 I work in a place with a view out over a lake,(Lough Erne,NI)there's a Yacht club nearby,and I've never ever been out on it in a sailboat! I HAVE been out there On Jetskis,ferry boats,and a Motor cruiser,yes,but it takes a lot of Nerve to face open Ocean on your own initiative!

• Omagh, Northern Ireland
6 Aug 11
Update,2011-She has since the original article been released from the court imposed supervision,and is currently part way through the voyage..She has a blog running with updates of the trip,stops,and photos,and is heading for Australia..

• Philippines
29 Aug 09
Wow, that is amazing feat..to many people that is an impossible for a normal teens to do, while many are busy surfing the internet, enjoying teenage fashion and lifestyle..Laura took the other journey of being not an ordinary teens doing ordinary works but an extraordinary teens who manage to rise above the rest. She surely will make her own legacy to be admired by the rest of the world..Such a good examples that a teen could be a valuable parts of the society with a exceptional skills which is very rare now days..


• Omagh, Northern Ireland
30 Aug 09
So You don't think there's any reason for concern when She's been taken into care by social workers as a result of Her Ambition and is having psychological evaluations made on her for the next few months?

• Australia
29 Aug 09
I heard about this along time ago, maybe around the very beginning of this year, when I read it in a magazine. I have to say that I fully support this girl in what she is doing. She is dedicated and obviously educated when it comes to this. I think it proves that age is nothing these days and people shouldn't be judged on what they can or can't do just because they are either too young or too old.

• Omagh, Northern Ireland
30 Aug 09
Apparently She was born while Her Parents were on an Ocean voyage,and with a view to getting around Netherlands State objections to her planned trip,(Among others,Her Dad requested a 2 Year school break for the trip-denied) Her Parents are now considering applying for another nationality passport for Her (NZ?)that would let her continue..

• South Africa
26 Oct 15
I could be done as long a she has a support craft accompany her.