Hillary Clinton and Michelle Obama Frenemies?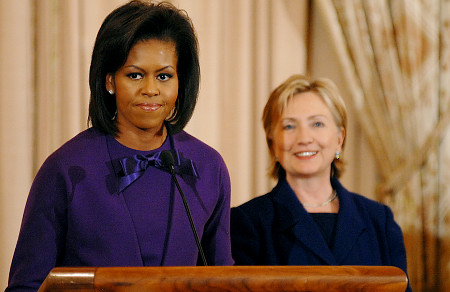 United States
August 29, 2009 12:09pm CST
Did anybody see that??

I kind of couldn't believe my eyes, what was THAT about??

Is their some drama between Hillary and Michelle Obama? When the Priest told everyone to greet at Ted Kennedy's memorial service their neighbor Michelle Obama greeted like one person and just watched the others and their was this moment where I think if I remember right, it was Ted's wife, in the middle of Michelle and Hillary and THEY DIDNT EVEN LOOK AT EACHOTHER!! Hillary had a smirk on her face and Michelle had her back to the camera looking the other direction but they were right in front of each other and didnt hug, shake hands, no-thing! It was the most awkward stand-off I've seen between them. Obama didn't seem to have this problem and went off another direction greeting people but greetings stopped and the Priest came to shake hands with their front aisle I swear it was like Obama was looking at Michelles HAND to see if she would shake hands with the priest, ANY-BODY catch this??

Man, the ceremony was creepy in itself (
cultish
) but I was not aware of any issues between Hillary and the First Lady and I know in her interview in August with Fareed Zakara she convinced me that her and Obama were like homeboys.
5 responses


• United States
30 Aug 09
I admire Hilary for one thing...in the public eye she stood by her 'man' when it was made known he'd been unfaithful in the Oval Office of all places! I can't say I'd have been as generous. That would have been a Bobbit moment for sure. But, she kept her cool...in public...for the good of the country or maybe her own ego. Who knows...but she kept her cool..I liked that.

• United States
29 Aug 09
Oh please! My condolences to the Kennedy family.

• United States
30 Aug 09
I was at work...but I saw some of the ceremony. (I pass medication in a nursing home, I go room to room and resident's tvs are on) He was an Irish Catholic...I'm sure if you are not familiar with the Catholic way it would seem weird. I am not a practicing Catholic but was raised in the church so it isn't unfamiliar to me. I didn't see the part you are talking about. I do agree with most here that Michelle Obama has something very wrong about her. Not just cause she is married to Barack either. I too, did not care for her...'I'm finally proud of Amercia' b/s. As for the press being 'in love' with her...they know what's good for them. I really think that most of the hesitancy to say ANYTHING about the president and first lady is creepy. There is even LESS political humor (that I'm aware of) than with most administrations. Maybe I'm wrong here...but I just don't see the comics jumping on all the things they usually do with a new president and first lady in th white HOuse (on non satellite tv) I don't watch the satellite stations like Comedy Central so I may be wrong. I do know that the news anchors don't say much other than how wonderful they both are. And they really kissed butt by putting Michelle up there with Jackie O. Wasn't it TIME that did that? That did catch my attention and it made me shudder. Jackie was a classy lady with her own claim to fame as a writer and mother. Michelle did what? She's a mother, but since she's to good to let her children be in the public eye....remember the dolls that came out that she nixed...? I think she most definately is a b-witch. Anyway....I normally would have watched as this was a historical moment in our national lives...but I'm sorta glad I missed it. Somehow these sort of things just seems to matter less to me, our country seems to have been invaded by those who are unAmerican. I don't care to have memories of any of what goes on with them. And though I do admire somethings about the Kennedys...after discussing Chappaquiddic on here...it would have made my stomach turn to watch everyone praise him...no matter what 'good' he did for the country. He could never fill Jack or Bobby's shoes.

• United States
30 Aug 09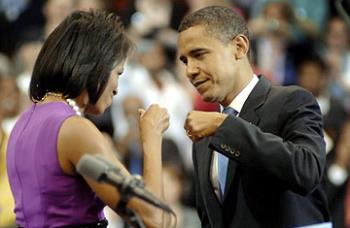 Quincy White [from 'Michelle Obama' bio by Liz Mundy, NYT bestseller] (recruited Michelle to their marketing group in 90's): Said Michelle complained that the work he gave her was unsatisfactory and Michelle was not satisfied EVEN AFTER he gave her a Coors Account. He admitted that at big firms, much of the work that falls to young associates (Michelle was 2nd year) involves detail and tedium. "She is quite possibly the most ambitious associate that I've ever seen." By this he means that she wanted significant responsibility right away, and was not afriad to object if she wasn't getting what she felt she deserved (pp102) "..Waiting five to seven years to make partner was a good career move for me but not for [her]. There are too many other opportunities out there...that mature faster than that." --Quincy White NOTE: 1. In high school Michelle gave her typing teacher a hard time when she didn't get the 'A' she believed she had earned 2. Complained that the Princeton professors were teaching French incorrectly; 'it is also consistent with someone who wasn't impressed with how hard her Harvard legal aid colleagues worked.
ALSO MENTIONED: Her mother also (like Michelle's first impression) saw Barack Obama as 'somewhat unusual'
. Speaking to Marion Robinson, for Chicago Public Television, her mom admitted that at first she had qualms about [Michelle's] relationship. [b]Asked about his biracial status, she said that it concerned her a "little bit," but not much as it would have if he had been white. [/b]

"I guess that I worry about race mixing because of the difficulties, not so much for prejudice or anything. It's very hard." ACCORDING TO HER BROTHER, CRAIG: Barack came over for dinner and the whole family liked him and felt sorry for him, assuming he wouldn't be around for long (Because he wasn't Black Enough for Michelle??

). He was very, very low key," recalls Craig. " I loved the way he talked about his family because it was the way we talked about or family. "I was thinking 'Nice Guy. Too bad he won't last.'" (PP112) Michelle: "We both wanted to affect the community on a larger scale than either of us could individually, and we wanted to do it outside of big corporations."

Craig [when Barack mentioned he may even run for President]: I was was like, 'Okay, that's great, but don't say that to my Aunt Gracie.'"I was protecting him from saying something that might embarass him," continued Craig, alluding to the family's suspicion of politicians.

• United States
29 Aug 09
I don't think someone like Mrs. Clinton has friends, just allies and enemies. Being that Obama was running against her, there's bound to be some hard feelings somewhere no matter how pragmatic she is. I didn't watch the ceremony--I'm as tired of Kennedy coverage as I was of Jackson coverage.

• United States
30 Aug 09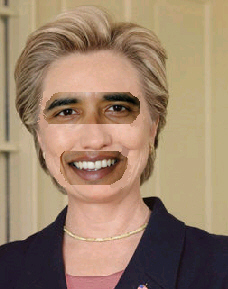 "Three words: Vice President Oprah" --(Barack on David Letterman show)