I found a camera! --The disposable memory Project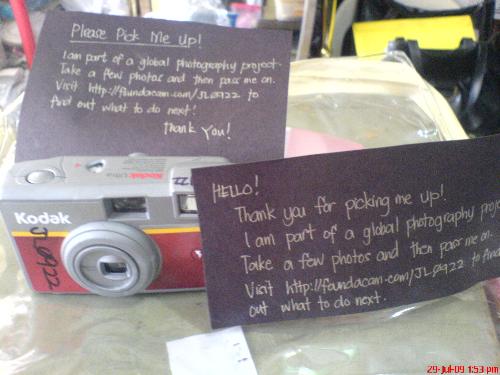 Philippines
August 29, 2009 4:37pm CST
I found a cam last month. I just want to share with you guys this worldwide project. Visit disposablememoryproject.org. 'They are leaving disposable cameras around the world. People are picking them up, taking a few photos and passing them on, eventually returning home - so they can tell our stories.' I am planning to drop two cameras here in my country (about two weeks from now). I will pass them to friends and the other, I decided to pass them to people I know online. If you are interested, you can send me a message so we can talk about it.
2 responses

• Malaysia
13 Sep 09
Dear bubblepink, That sounds interesting and 'thoughtful' too!

A camera that travels the world and see the people and culture from a different part of the world... it is something like the one that Malaysia participate on bookds donate / left at a speified site in a mall...strangers can just pick it up, there is a coding to it, so after readding the book, go to the website and keyed in your location and pas the book to another person. AS it goes around, it can be traced on the website on who has read the book and where it is now! Great idea and absolutely practical

Cheers and do keep in touch!

• Philippines
13 Sep 09
I got so excited when I got the camera from a friend I met in tumblr. He posted it on his blog and I emailed him that I am interested. At first I thought it was a joke but when I met him and got the camera, I got too excited with my friend. We took a couple of shots then I pass it on to my office mates. I went on the disposable memory project website and told them I wanted to donate a camera so I could pass it on to my other friends as well. :) I'm still waiting for my friends to pass it on. By November we are planning to go on a trip outside the country to I can pass the camera. The project is worldwide that why it's very interesting. The book project in your location looks interesting too! Is it just in your country?

• United States
29 Aug 09
Sounds like a really fun idea!

• Philippines
13 Sep 09
It's really fun! You can donate a disposable camera and pass it to your friends. Then send it to them and they will post it on their website! :D