If you were to plant a garden what would you plant?

United States
6 responses

• Philippines
3 Aug 11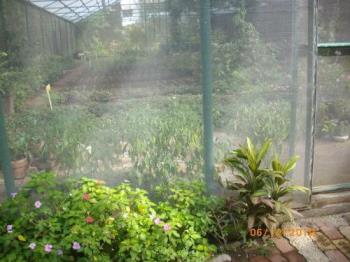 Yes, if you have a vacant lot for vegetable garden it is really a great idea to start planting right away. It will help you save on food. Apart from saving you can also be sure that you are eating organic veggies. Those veggies in the market are sometimes not safe because many greedy planters add chemicals on them. So it is better to grow your own to be safe and sure.


• United States
2 Sep 09
This year I ventured into trying out my green thumb for the first time. It was simply deck tomatoes (or potted tomatoes) that I tried this year and they have done well as far as the plants, not so well as far as the fruit. The squirrels keep getting them before they are grown. Next year, however, we are going to till out our side yard and actually try a small garden. I'd like to grow tomatoes and peppers, pumpkins and strawberries. I'm not a huge fan of flower gardens although I do love the one rose bush that we have, but I love fruits and vegetables so I know that is what I'd have to grow.

• United States
2 Sep 09
I would plant tomatoes. Lots of tomatoes. They are pretty easy to do, and I love their taste. Also, strawberries. Once again, easy to grow, and they taste awesome.

• Canada
2 Sep 09
It's a very good idea to plant food in a garden. It's so much cheaper and you can get so much food if you look after it. I do enjoy flowers and stuff (they are very pretty) but my true passion is food. This summer i've grown so many things in my garden and it looks very pretty. The main vegetable that i've grown that i've gotten food from is beans. They grow extremely fast and make so many beans. I've gotten many crops and am now cooking meals that have beans in them. Another vegetable i grew is lettuce. The problem is that i bought a bunch of seeds that is a mix of different types of lettuce. It looks very wild and i haven't actually tried to eat any of them but i'm sure that they are good. I planted a bunch of tomatoes and there are growing very well. I think that i planted them fairly late because i haven't actually eaten any of them. They are all still green. But i would still recommend it. My number 1 favorite thing to grow is raspberries. Just take some old raspberries (that are starting to go bad) because they will grow into raspberry bushes. I've had an amazing crop this year and have started to freeze them.

• United States
2 Sep 09
I do not have a yard so I bought some flower boxes to have a flower garden this year. We live on the second floor so have a nice porch/balcony. The flowers did not do very well. I had some flowers, but not as I hoped to have. I was thinking for next summer to buy more flower boxes and have a vegetable garden. That way I don't have to worry about the costs of fresh produce.

• Philippines
2 Sep 09
hi globalwide, practically nowadays we should learn how to plant vegetables and fruits on our backyard, they are a big help for us nowadays specially now that we are experiencing global crisis and a lot of foods are increasing it's price.. by being practical we can be more independent and not to worry for the status of our country now.. i have my backyards and i do plant vegetables like squash, potatoes, tomato, eggplant and a whole lot more.. i will just harvest their whenever i will cook and note they are fresh and without insecticides, i can save more to my bank.. and i can have a good health.!! we should try it.. janebeth.