MyLot Blog. Do You Visit This Application?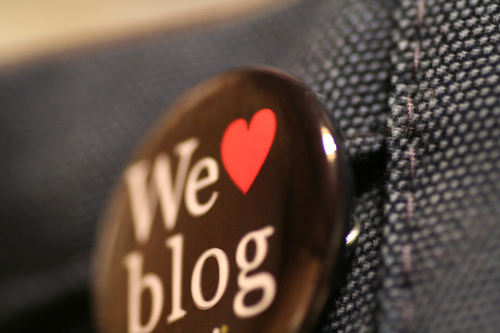 Philippines
September 2, 2009 3:03am CST
Hello fellow myLotters!

Good day to all of us.

I would like to ask you if you use this application in myLot. A lot of us have been busy responding and commenting on the discussion tab but have you ever visited the
blog
tab? Yesterday, when i got bored with all the discussion posted, i tried to visit the blog area of myLot and i noticed that there are only few persons who commented on the articles. Do you think the blog tab helps you or does it interest you at all or is it just a decoration on the myLot tabs? To be honest, the only thing i press on my homepage is the
discussion
,
home
and
earnings
button the rest is just a decoration.:P Most often i also click on the
message
and
friend
button if i have a message or a new FR. So how about you guys?
Good day!

3 responses

• Italy
2 Sep 09
Hi there! I am like you and I do not visit the blog section very often at all. I sometimes go to the news articles but I usually stick with the discussion area. There is just not enough time to do eveything here and I bet there are some really good blogs worth looking at. Users have put a lot of effort into them and I guess we should go a little more often.

• Philippines
2 Sep 09
Hello MysD. Thanks for the nice response.

I visited that application yesterday and found so many interesting news about life and the latest gossip from the celebrities. I just found out that the
Grey's Anatomy
star Ellen Pompeo had a baby already. I never thought she was married.

I would definitely go there when i am bored with the discussions here. You should try it too.


• Italy
2 Sep 09
Just one problem - I never get bored with the discussions!

I think we must make a petition to have more hours added to the day as there are just not enough to be able to do everything we want to

Maybe when winter comes and I shall have even more time at the computer, then I will have time to visit them more often.

• Philippines
2 Sep 09
I see that you are quite busy entertaining the new users here.

The helper of newbies, eh?

Yeah winter is approaching. It's quite fast. I just woke up and realized it's the first day of September. Unfortunately we don't have winter season in our country so we don't get to enjoy the snowflakes
*bummer*
. I haven't got a real job either. So i guess there will be no gift-giving for me.



• Delhi, India
2 Sep 09
Hi Koal!

I only log in to check discussions, I do not see any other captions such as blogs, quizzes or mylot tasks. I simply enjoy participating in the discussions, because I feel it gives us a chance to interact with fellow mylot members and it help us exchange our views and ideas with other friends. Moreover, I do not get much time to check the blogs etc. Have a good day! Deepak

• Italy
2 Sep 09
Do I hear an echo...cho... cho... choooooooo?

great minds



• Delhi, India
2 Sep 09
mysdiana
- Yes, I am also hearing an echooooooo




• Philippines
3 Sep 09
So great minds do think alike, huh?

I thought a lot of myLot members dig the blog Application.

I can see that you two are really having fun here with the discussions. So i guess i will see you around.



•
2 Sep 09
I have seen that option koalapenguin, and believe me it has been only some few weeks back when I check that as my blog is one of them. You can check it around http://medmetal.blogspot.com/ and http://medsopinions.blogspot.com/

• Philippines
2 Sep 09
You have so many blogs med.

And they are all interesting. I see that you enjoy rock music and the other blog talks about anything under the sun right? Can i make comments on your blog? Are your blogs associated with the site?