Hubby is getting obsessed with rubik's cube...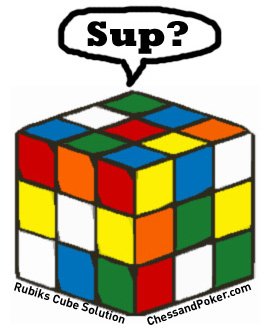 8 responses

• Australia
4 Sep 09
80's flashback, 80's flashback!

Goodness me, I haven't seen a Rubik's Cube for AGES! lol. I could only ever get out one side at a time myself too when I used to have one, but then a friend showed my how to take it apart and put it back together again and I became an expert overnight! Hahahahahaha I suppose it keeps Hubby quiet at least, yes? lol.

•
5 Sep 09
I know it's an old toy but all throughout the years I always see Rubik's cube but never really had one for myself because it used to bore me. But I saw a special feature in the movie "In Pursuit of Happyness" and I got challenged. Taking it apart is really a good idea. LOL!

• United States
7 Sep 09
i used to have one of those..at most i could get 3 sides if i was lucky,but never the whole thing.it's a fun time waster,though.

• United States
7 Sep 09
i used to have one of those "snake" rubic's too-they're even harder to an extent LOL


• India
5 Sep 09
I am fascinated with Rubik's cube. Can't make even on face

But my sister doesn't allow me to even have one and I am well under her supervision. So it is quite discouraging!

• India
5 Sep 09
Your guess is quite right. Personally I agree with her. With all the fame of this cube and my getting off-track every now an then... Better to be cautious. Hats Off!!


• United States
21 Nov 09
Somewwhere around our house probably still packed away since we moved, we have a Rubiks cube. They are a lot of Fun, and I am surprized and Happy to see that they are still around as well. My mother when she was alive could solve a Rubiks cube with no problem, so we used to go and mess hers up all of the time just so she could go and solve it again. I have done 2 sides before a couple of times, but never the whole thing. Maybe someday.

•
21 Nov 09
Our rubik's cube has been set aside for quite some time now. Hubby and I can only solve up to 3 sides. It was driving me nuts and one time I almost missed my bus to work so I decided to put it away for now. Sure they have been around long but not as popular as they used to.

• United States
8 Sep 09
God, I hate that thing. Once, I've spent days on one and still didn't manage to solve it. Then in class there was this guy who solves it in under s minute.

I give up....



• Malaysia
4 Sep 09
I am never good at rubik's cube. I can't even get a side correct. It's frustrating. I did smashed one so I can put it back together again like a puzzle. Of course that won't work either. They said it's for something that is good with Mathematics. So I was sux at it~~~ I did watch an episode in The Beauty and The Geek, one of the contestant solved it on his back. He was fast too!