Ladies Only! Go Girl

United States
4 responses

• United States
5 Sep 09
Oh' enlightened one, you must also get commissions...

What an informative post of something that all households trips over language because the conversations drops when considering other conversations that I can't say what I'm trying to say because my language is being hijacked by people who want to bully the majority and control us for profit. It's a sin that we can't speak freely anymore!

• United States
5 Sep 09
Commission! Great idea! Maybe I should contact them. Of course if they go public, I will certainly be in line for stock purchases. I saw the info on CNN and thought it a great idea. It would have been perfect for my trip to India. I have arthritis and my knees are not made for non-western toilets. especially when wearing a sari (clothing that I was not used to, I might add). Even the western-style toilets were not always the cleanest along the road side stops. My sister is an avid lover of camping, so I also thought of her. It is true that we have to edit our words and speak carefully anymore, but I don't think you have to worry Thegreatwhitebuffalo. Anyone who takes the time to follow your posts knows where your heart is and should not be offended by what you say.

• United States
5 Sep 09
I'm so glad that you understood and comprehended all of my thoughts as I felt restricted in what I had truly wanted to say as the words are written on my heart but some people would like to stop the beating of my heart. Do you know what Sitemeter is? There is much we can learn by knowing what each application does.


• United States
4 Sep 09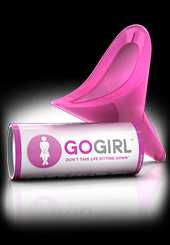 Go Girl is a female urination device for women. It allows you to stand up and go rather than have to sit or squat. God! I could have used it in India! I have arthritic knees. It is made of medical grade silicone. You can clean it and reuse it or dispose of it - whichever you are comfortable doing. It sells for $6.99. I just ordered 3 each for my sister and me. She loves to go camping. I just want to be prepared for public toilets.

•
4 Sep 09
Oh, thanks Lamb... I went to the site, read the blurb and watched the video. It made me laugh so much that I wished I'd already bought one!! Is there a 'Go-boy?' ... could eradicate the wet toilet seat for ever... Actually, they could be quite useful in hospitals if they form a seal because bedpans spill & then people like me have to clean it up and change the bedding.

• United States
12 Sep 09
At first I was incredulous. But I have always admitted that I am jealous of men for one reason, and one reason only. That that can pee standing up. I'm sorry, but if a woman tries that, well, let's just say it wouldn't go as well. So I say she made a great product. Good for camping, or for having to go in a dirty gas station restroom where you'd no sooner sit on the toilet seat than touch the door without a paper towel.

• United States
12 Sep 09
It's one of those items that make you say "don't leave home without it."


• United States
6 Sep 09
I think this company will do well. I think lots of women will want to try it.