Ebay?

India
November 13, 2006 6:16pm CST
All of those people who have bought or sold on ebay please reply. It would be interesting to know how popular Ebay is in the Mylot community. I have bought everything from computer cd's to mobile phones at ebay. Have sold only some books though.
8 responses


• India
14 Nov 06
Yes. There are some mischief makers there just like every place.

• Philippines
15 Nov 06
These guys annoy me by asking to buy the item right away without bidding... What sucked is this one time when I sold a guitar to one guy and a bidder came and offered almost twice the amount I sold it for. I had to ask the person who bought the guitar to outbid the other guy... I was so irritating...


• India
15 Nov 06
Yes. Cut your losses man. Sell a few dollars worth also.

• Canada
14 Nov 06
I have never bought anything on ebay. But it is very tempting to buy something because you can find anything there at a good price. However, sometimes it'll mislead you when someone puts 1 cents on the bidding price and then you find out the shipping price is over $20. Anyways, I want to start selling on ebay, but I've never had any experience. There's so many people selling there, I'm afraid that my item won't be noticed. And I don't know how to about puting a paypal account on the item and how would I go about using the fedex ect.

• India
15 Nov 06
Yeah these things stop many from trying to sell. Its easy to get your item noticed simply make sure that its listed in the right category and people will notice it. Also, you can easily open a paypal account at www.paypal.com which I assume you already have cos you are at mylot and as for the courier thingy you can get that info from their offices closest to you.

• United States
14 Nov 06
While I have never sold anything on ebay, I have bought at least 1500 items! I've bought books, new clothes, dog clothes, dvds, cds, gifts for others and an antique pump organ! I love ebay and find it very convenient. Today alone I have already purchased 3 new items for gifts and am going to buy at least 2 more before the night is over. :)

• India
14 Nov 06
So you can be classfied as an ebay addict. By thw was what was the antiue pump organ for?

• India
14 Nov 06
Wow!! The fedex guy must have become a close friend. Is it so?

• United States
14 Nov 06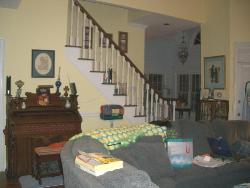 An antique pump organ is an organ that is operated by foot pedals. I had always wanted one and it was the first ebay purchase! Had it shipped from Oregon to Michigan (where we lived at that time). You should have seen trying to get that thing in the house! It weighs a ton! If you look closely, you can see it in the photo below.


• United States
15 Dec 06
i buy alot from ebay,mostly cd an electronics ,but i would like to sell ,but!i really dont know how to get the pictures of stuff i have on there. im i stupid or what!

• United States
16 Nov 06
I love ebay!!! I've bought and sold a lot on ebay and have a storefront on there right now. I personally think that it's a fun way to make money. It can addictive though, I will admit!