someone has seen an angel!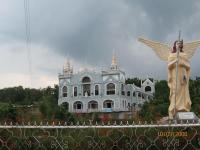 Philippines
September 5, 2009 8:29am CST
a college student (who has a third eye) of my son told him that she has seen an angel (aside from seeing ghosts). she says that she is as tall as a two-storey building, light-haired and with flowing robe. do u believe that angels exist? would u like to see an angel?
3 responses


• Philippines
5 Sep 09
she does not only see angels but she sees ghosts too. she told my son that there are more ghosts in the church than in the cemetery. once, she told my son that there was an occasion that she saw a scene where someone is killed and it was as if she was actually there. when the killer went near her, she was meditating and thinking hard for the man not to get near her and if ever, just do this in a dream.. indeed, she dreamt about it. i think this woman has missions to fulfill ... scary but i believe her... she is so sane as anyone can think.

• Germany
6 Sep 09
We are buddhist. But what your son's friend said is the same as my father told me. He told me that actually there are more ghost in the temple. I don't know how to explain. But it's something like this, the praying attract the ghosts and they need this to fufil the reincarnation. If you play the prayer/religious "songs", that also attracts the ghosts. But they will not harm you.

• Philippines
7 Sep 09
yes that's what the student told my son. but there are two kinds of ghosts that she saw. one she calls bad and the other good. the bad one, as she says, projects a black floating image while the good one, whitish.

• United States
5 Sep 09
Just because you haven't seen something doesn't mean it doesn't exist. I do believe in angels or spirit guides that watch over you. If you've ever lossed a loved one and asked for a "sign" to know they made it to the other side, you'd believe in things you can't see. Young children are especially prone to seeing angels and deceased loved ones as they've just come from the spirit world where these beings exist.

• Philippines
6 Sep 09
u are right there. just because we don't see them, it doesn't necessarily mean they don't exist. i know God exists through lots of things around us even if i don't see Him. thanks and God bless!

• China
5 Sep 09
What?I can't believe that. If there is really angel something, I may be afraid that there would be ghosts in the world at the same time.