FUNNY things happened when people get DRUNK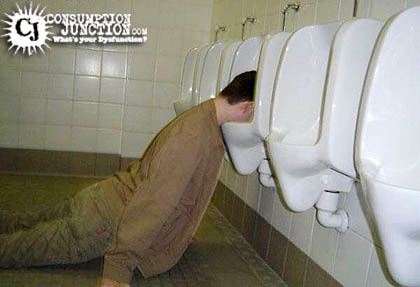 Philippines
September 6, 2009 3:04am CST
What are the funny things people end up doing when they get drunk? Some end up sleeping on the bathroom/toilet...some on the road in front of their house....or some like on the picture I attached (LOL). In my case, I always go home fine and bring home my friends but when I'm with them who happen to be my neighbors, I usually forget who pays for the taxi, and that is usually me.(LOL)
7 responses

• Philippines
6 Sep 09
I have a male officemate who starts kissing his drinking buddies whenever he has too many to drink.

When he starts doing this, his buddies will then call it a night. The following work day, kissing buddy will of course deny that he kissed his buddies the previous night.



• India
13 Dec 09
Yes it is funny. It is also funny to see them walk. They would sway from left to right and sometimes forward and backwards.


• Philippines
11 Dec 09
Me I dance...lolz.. and sing.lolz...those are the things that I do only if I'm drunk..lolz. But worse to worse I sleep in the side walk if I'm so drunk to get home.

• Japan
28 Nov 09
Well, it wasn't exactly funny, but I remember when I was younger and my friends would get extremely drunk. One of them was so drunk that she decided to lie in the road while shouting the name of the boy she liked. It was hard to take her back to the sidewalk before a car would pass over her.

• Malawi
12 Sep 09
I have seen many answering the call of nature in public places without remorse. Some have a spiral of abusive words flowing out of their mouths plus the usual gibberish.

• Philippines
9 Sep 09
There are a lot of amazing things to happen when you get drunk. I tend to laugh out loud... as in very loud. I become very talkative and things just seem very funny. twice i puked though. Honestly, I think getting drunk is fun but it's the aftermath that can cause a lot of problems. the hangover,the splitting headache.

• Philippines
9 Sep 09
Hi Ash, thanks for sharing your experience. Laughing aloud is really unavoidable..haha! there are many terrible or crazy things that one do when they are in spirits. Though i have never been in the worst but i have seen the worst like sleeping anywhere. puking is one thing i'm trying to avoid so i would stop if i know my stomach can't take anymore...happy lotting^^;;

• India
6 Sep 09
it was my 18th birthday when i was drunk and i was not able to see anything everything was blurred and i even couldn't recognize my parents, then my father shouted at me, then i knew yeah i am in my house n this is my father lol. i was drinking the whole day n i mean the whole day. it was awesome and i won;t forget that day and my birthday. seriously it was awesome. :)