onion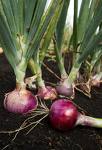 India
8 responses

• Australia
11 Sep 09
Provided you remember to think ahead, chill the onion before cutting it. Wrap it well in plastic (to contain the odour) and leave it in the fridge for a couple of hours or part-freeze it in the freezer. If you choose the freezer, don't leave it there too long or it will be harder to slice. The bread didn't work for me, for chilling the onion does.

• India
8 Jun 10
Hi cloudwatcher Yes I have heard about chilling the onions before cutting but did not tried so far. Next time when I buy onions, i will definitely follow this idea and avoid shedding tears




• Australia
24 Jun 10
Thanks for the best response. I hope you had a few "tearless" onion preparations.

• India
24 Jun 10
You are welcome. Yes after your tricks are tried, i am having tearless onion chopping moments now a days. Thanks for your finest info and expect to get more and more such infos from your side in future


• India
8 Jun 10
Ohh! New tip indeed. Next time when I cut onion, I will try this trick lol. But if we keep the half portion on the top of the knife, and if we start cutting the other half, will it not fall down? Anyway, i will try this trick too difinitely. Thanks for sharing with your useful tip lol.



• India
7 Sep 09
Yes. Put the onions in water for few minutes and then cut. Your eyes will not water. Even the peeling of skin will be easier. This rule applies to small onion also which we call sambar onion generally.

• India
8 Jun 10
Ohh! Good tip indeed. Next time when I buy onions, i will try this tip definitely. Even we use shalots ( sambar onions) in the sambar. It smells good and my children likes it best. since it is very small I feel sick to peel the skin

• Greece
7 Sep 09
Hi vathsala, I seem to peel and chop countless onions and the best way to stop the tears is very simple. Hold the pulse points of your wrists under cold running water as you feel the first sensation of tears and it will stop them. When it starts again just repeat the action. It does work. If your children make fun of you you must ask them to help you to remove the peel themselves and they won't be laughing at you anymore, even better don't mention the cold water trick to them.

• India
8 Jun 10
Wow! wonderful tip friend. Yes I tried this trick and it worked wonders. Now my children are matured enough and they are not making fun of me anymore. Thanks for the wonderful tip.

• Philippines
7 Sep 09
I always chew a gum when I cut onion and this trick really works. try to do it for you and see the result :)

• India
8 Jun 10
Wow! really great tip. I will keep this in mind and next time, when I buy onions along with it, I will buy chewing gum too. Thanks for the new info. Have a great day

• Philippines
7 Sep 09
I really don't have much to contribute as I don't know any tricks in making food preparations easy. But I just want to say thanks to the posters above. I tried both methods and they actually work. Thanks again!

• India
7 Jun 10
Hi xtedaxcvg You can try one more method too. Before chopping the onions, keep them in the fridge for 30 minutes, or place them in a bowl of water and then cut them. This method will not cause us cry while cutting the onions

• United States
7 Sep 09
I do this too. As a matter of fact, if my husband is home when I need an onion cut, then I make him do it. The acid in the onion is what makes our eyes burn and water. The only suggestion that I have ever heard to help defeat this problem is to cut your onion under running water. I've never personally tried it, but my mother swears that it works. As for me, the water would probably make the onion slick and the knife would slip, thus causing me to cut myself which would be a lot more painful than the burning of my eyes.

• India
7 Jun 10
Hi dorannmwin Before we cut the onions we must keep them in a bowl of water, then start cutting, to avoid tears. This is what I have learnt now and even implementing it too. Several times i cut my finger too while cutting the onions with tears in my eyes

• United States
7 Sep 09
You'll think I'm insane and that this won't work, but I was a non believer and tried it and now it's the best trick I know. First, you want your onion to be cold. Cold ones don't spray out so much juice that makes your eyes tear. Second, before you make one slice in the onion take a piece of bread and put it in your mouth. Don't chew...just hold it there. For some reason it makes you not cry. My mom taught me this trick years and years ago and I still use it. Sometimes the bread gets all soggy and icky if you have to chop for a long time. In that case, you may cry a bit at the end if you have to swallow, but otherwise it works great!

• India
7 Sep 09
Wow! great idea. Tks to u and your mom. I am rushing to a bakery