Not Your Average Bride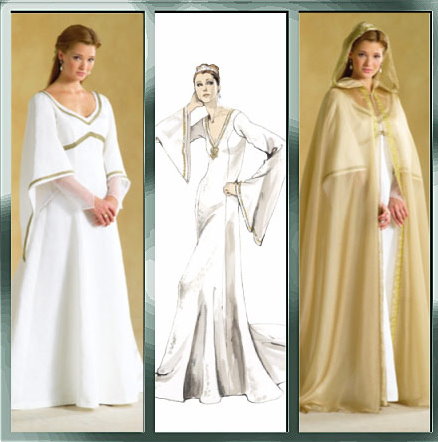 United States
September 10, 2009 5:38pm CST
Okay, so I've been hanging out places like Brides.com and The Knot. But it seems to me that these places cater to those who are your traditional bride, who have a traditional dress, a traditional ceremony, and a traditional all over look. I'm not that girl. And I've been almost ridiculed for it on those sites. Been called a prude because I wanted a modest dress, that I didn't want to show cleavage and actually wanted sleeves. For one thing, I don't even really want a white dress. I don't want something that I can only wear once. Too much waste of money. Instead, I want something that I can wear at a renaissance faire. You can't find this in a bridal salon, and although you can order it online, it's outrageously expensive. So I'm making my own. The color will probably be periwinkle blue, as blue was the color of brides in the Renaissance, trimmed with navy blue. If I do have a white dress, the trimmings will either be periwinkle or forest green, depending on the color of hair I choose to have. My groom will wear a tunic and renaissance style leggings if we cannot a ford a kilt with his clan tartan. I have other things that will make my wedding "odd." No flowers. I dislike flowers (except for one specific kind, which are not arranging flowers) and I think they're a waste of money because they just wilt. You can't even find silk flowers of the kind I like, and silk flowers can get outrageously expensive. Also, cake can get expensive, and it's not our thing. Cookies. We're having tiers of chocolate chip cookies at our wedding instead of cake. And they're yummier. These are just two oddities. We probably aren't having attendants either. Or if we do it will be just one each.
3 responses

• United States
10 Sep 09
I say all the power to you! It's your wedding - do what you want. Lots of people do it. And while it may not be traditional, it is definitely unique! :-) Good luck with the planning and congrats. My husband and I just got married in June!

• United States
10 Sep 09
Thanks for the well wishes. Some people have brought up concerns that if we don't have all that stuff that our guests wouldn't enjoy it. What do you think? If we have substitutes, do you think it would be less likely to be enjoyed, or would it be a wedding that actually stuck in their minds that they enjoyed for its originality?

• Canada
10 Sep 09
Welcome to MyLot. Who iis the wedding about? Pleasing your guests, or expressing yourself? And if your guests really care, your expression of who you are as a couple will please them in the end, regardless of the type of wedding you have. People knew better than to try and "guilt" me, or influence me, beecause I can be a real bull, when it comes to doing it my way. :) Hubby and I discussed every detail (no small feat since at the time I was in Ontario, and he was in Arizona LOL) He didn't just leave it to me because I'm the Bride and it's my day. He knew it was our day, and we should decide together. We did, and it was all about uS!!! Our guests loved it, because it was so unique. People wanted to be there, just for the EXPERIENCE of it. :) They all knew it would be like nothing they've ever seen before, and nothing they would ever see again. if you really want to make your guests remember and enjoy your wedding, make it as unique as possible. There will be other traditional weddings they'll be invited to in their lifetimes, and lots that you will attend. No one is going to miss anything, if you do it YOUR WAY. And thank you for the best response!! Awsome. :)

• Canada
11 Sep 09
You know what? Traditional is boring. Why would you want a wedding album full of pictures that just look like you cut and paste them from other peoples' weddings? I love to hear about people doing their own thing and making choices for THEM. There is no right and wrong when it comes to the things that you and your husband to be decide is important to you. I couldn't stomach the idea of a 'real' wedding and we ended up half way eloping. I wore a little white sundress with white flip flops and my husband wore jeans and a button down shirt. It wasn't glamorous or spectacular but it was exactly what we both wanted. Congratulations!

• Canada
10 Sep 09
I know! I didn't like those sites either. The only thing I used "The Knot" for was to keep track of how many guests I was inviting. That part of the site came in handy. \ I wore a red dress that a friend made, and had flowers that matched my flags. I also had my flags in the bouquet. The whole thing was red and white, and I didn't have attendants either. I also kept my last name. When it comes to weddings, you and your fiance need to do what is right for you, not what is right for the wedding industry. I like your idea!! I think it'll be a beautiful wedding. I had flowers because I love them, not because they're traditional. My wedding cake was a traditional Danish cake made of Marzipan rings with red and white roses, and Danish and Canadian flags all over it. It was beautiful. Again, it's YOUR DAY, you do what you want, and you're not a prude for wanting to be modest.