Are we done yet?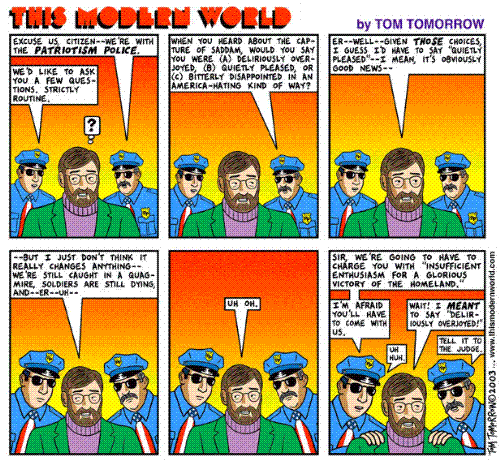 United States
September 12, 2009 3:08pm CST
Yesterday and part of today, there have been many postings all over the web about the anniversary of 9-11. Most of them were very patriotic, some to the point of being downright nauseating. Some, like one complaining about the Chinese flag possibly flying at some point on the White House lawn, were just downright funny, in a very stupid sort of way. So, I ask you, mylot readers, are we done yet? Is the world going to go back to normal things like Obama bashing or are we doomed to see more and more patriotic hoopla? Click on the cartoon and have a laugh :)
4 responses

• United States
12 Sep 09
As much as I prefer the normality of life, I do think that it is important to remember the past. It is when we forget the past that we end up repeating it. My kids and I sat down last night and were flipping through the channels when we came to a show about 9/11. I was getting ready to pass the channel when they asked met o pelase leave it there. It really was heartbreaking to see it from the points of view that those camera-people did. I think that as a country, it is important to remember that day and all that happened, but, not to dwell on it. Yes, remember the past, yes, remember the lost lives, yes, remember it all, but yet, go on living life as normal. Let's face it, that day changed many things for our country, things that will never be the same, just as other wars have. We need to remember and learn from all of it while we live, laugh, and love today.

• United States
8 Oct 09
Chinese version of star spangles flying on white house, that will be really funny. lol!!

How about start printing the portrait of Chairman Mao in USA new 20 dollars currency note ? The Obama bashing will not over any time soon!! Just sit tight and laugh.


• India
13 Sep 09
It surely doesn't do to dwell on the past, especially such a sad and grievous past. I mean, yes, of course, we should learn from the past and the mistakes that we made, but that shouldn't mean overdoing the grief and undermining the actions which are necessary to be taken. Let's face it: terrorism is never going to be wiped out from this planet. As long as there are short-sighted people who feel that their religious sentiments are far more important than the lives of innocent people, and as long as there are countries who train these persons in order to infiltrate other countries and weaken them, this world will never have peace. But we shall have to try to live normally in our lives, and grim incidents always make us sad. And humans generally don't want to bring sadness into their lives, unless it barges in. So we should spare some thoughts for those families also for whom the sadness barged in like a plague when this gruesome incident of 9/11 occurred. Their wounds are still raw and can never be fully healed. I feel that each year, by remembering the horrific nightmare, and with each TV channel flashing those same videos of the giant towers being razed to the ground, we are actually tearing up their wounds more, so that they remain fresh year after year. Cheers.

• United States
13 Sep 09
I have to agree. Remembering 9-11 is one thing, re-showing those awful videos all over the place is something else again. I feel for the families, I truly do. And, you are correct, there will always be some sort of terrorism on this planet as long as there are humans.

• Garden Grove, California
12 Sep 09
hi fwidman loved the cartoons, we are getting close to that'here. we remembered the atrocity now its time to move on, but must we have'mor obama bashing? I mean I voted for him and I like him, so what does that make me, a commie or worse.no more obama bashing, no more any politics,let us all let it be.speaking words of wisdom let it be,let it be,courtesy of the Beatles.