Do you like cats?? do you treat them like your own child??

Canada
9 responses

• India
14 Nov 06
i dont like cats... they are not useful or lovely as compared to the dogs.

• United States
15 Nov 06
If you don't like cats, then why did you bother to answer this question at all... As you can see you are far outnumbered here... I also own a dog and she is always needing more attention and exercise than my cat... As a matter of fact, I have put off going on a vacation because my dog would bark outside and need feeding every day if I were gone... I would have to get a friend to come over and feed her each day and that's a lot of work... However, my cat is self sufficient and can eat when she is hungry and leave the rest of the food till another time... She goes to the litter box and sleeps a lot... I could go on a weeks vacation and not worry about her... But a weeks vacation is out of the question with a dog in your home...

• United States
14 Nov 06
I love my 14 year old female calico cat... She is beautiful, has large patches of orange, black and white furr all over her body, she follows me around the house and sleeps with me sometimes... She is like a little kid around me, and she always wants to be in the same room as me... I love her very much...


• Canada
14 Nov 06
I have two cats as well and love them so much. Infact, when they had surgery at the vets..I sat in the room with them as they came out of their sleep..and stayed with them right up until the vet clinic closed lol. I think some people thought I was crazy...but I love them.

• United States
14 Nov 06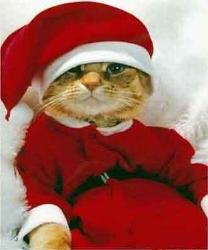 Yes I'm a very big cat lover, they are the best pet. I own 3 of them, one has 5 kittens. they are so cute, I wish i could keep them all! i also have a tattoo of a cat on my leg. hows that for a cat lover? lol