Married

India
November 13, 2006 10:22pm CST
Are you happily married, not so happy..., unhappy, which catogery do you fall in
11 responses


• India
14 Nov 06
Why, anyway if its personal you dont have to answer. thanks for the response



• United States
14 Nov 06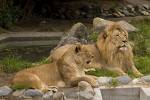 i think i should wait for a perfect partner before making the decision of my life... Your life partner should match your caliber, he/she should have interests matching with urs. And above all, thy should love the other one more than your life.

• United States
14 Nov 06
I'm happily unmarried. In the past I've been unhappily married and happily married followed by not so happily married and so so happily married. I much prefer happily unmarried from now on.

• United States
14 Nov 06
Very happy for 30 years, and yes married.

• United States
14 Nov 06
me too, i dont want to get married. my parents are separated. a lot are. and it scares the hell out of me. :P if i do get married, id love a happy marriage, who woulddn't. :)