Do you have a Bucket List? If so whats on it?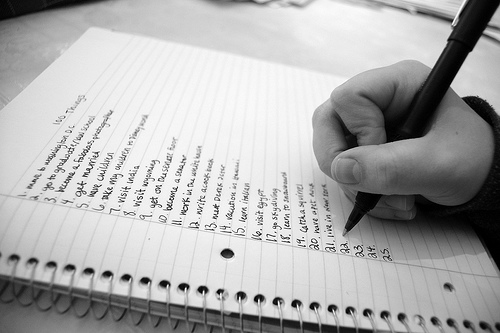 United States
September 17, 2009 10:37am CST
After seeing the movie Bucket list I decided to make a list of my own. Myabe not a bucket list but its my 30 things to do before I'm 30 list. I havent finished it but a lot of great things are included. heres some of them Fly a really big kite on a windy day. Sell on of my screen plays. Graduate college Teach my nephew to ride his bike. Bungee Jump Run a marathon Be my sisters maid of honor Take my neice to her first day of school Give my mom her own speical spa day Go see my brother's ship come in from the Navy That's just a few of mine. How about you? What's some of your list?
3 responses

• Singapore
18 Sep 09
It was a good movie, I agree. Touched my heart definitely. For my own bucket list, it would be a few. To bring my parents to travel, and this is a must because we have yet to travel as a family for the longest time ever. Been busy with own schedules and stuff like that. Next would be to hold on to the love that I would find in someone. To hold on and show that person that love exists and can be beautiful too. Next off would be I wanna travel by myself. Like explore certain places, alone. Yes...and I would give a time-line to my love ones should am not able to come back on time, to look for me like crazy because I might be in trouble. LOL..

• United States
18 Sep 09
A lot of the things you said is definetly somethings I'd like to do too. I think another big one for me is to be able to retire my parents. To say to them hey don't worry I'll take care of you. They could just go travel and have fun since they worked so hard all their lives for me and my sibling. I defintely want to travel alone to Italy, Germany, and back to Sweden to name a few for sure.


• United States
17 Sep 09
Ha ha, good movie. Haven't made an official one, but there a few things I'd like to do before I leave this earth. Fly with no airplane or wings... Save someone's life Watch my children grow Go parachuting Go base jumping Walk my daughter down the aisle... Live life to the fullest, and drink deep of the everyday blessings within it! Dive Deep!

• Philippines
21 Sep 09
i saw that movie already and i had fun watching it. and though the last part made me cry it was a two thumbs up movie for me for one of my favorite actors is morgan freeman. he looks like my uncle (sorth of). but i dont havea bucket list. but yours is a good idea. i will be turning fourty next year so i guess having a 40 list is a good idea. but i am not as rich as Jack Nichlson in that movies so i dont think i can get all those list done.