why males show love by physical means only or females response it in that way.?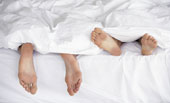 India
September 19, 2009 9:02pm CST
Why males approach are always considered as a physical one and even if they do it in right intention they are marked by their lover or spouse that "you always becomes a - - -beast"love is love it does not matter in what form.....there is always a limitation for, individual to individual basis their thinking pattern,there emotions and so on,it also depends upon the other person as well with whom the he/she is involve the chemistry between them,hence one single individual cannot make love for which he/she needs another partner,and only when both comes together with their common interest, attitude,liking,test,temperament...the act begins,but then its been made felt to the male partner or always or most of the time it is been branded that there is no love except the physical one......
3 responses

• India
20 Sep 09
It is true that men are more physical than women, but this is not necessarily a rule. Men can also be be very sensitive people. Nevertheless, if a man is in love with you he will respect a woman's feelings and behave accordingly even if he is a physical type of individual. So I don't think this matter should come in between a relationship, specially that of love between two people!!

• India
21 Sep 09
But Dear mohinimandokhot, as you have said that a male even though a physical more than a women are still a sensitive and emotional person and he knows how to respect his female partner......after all this things what happens....both becomes physical and by that way it comes to a logical end or rather logical continuation......Even though both are physical in every play they act upon. Its like a chariots wheel or the horse running in tandem,hence men has to be physical while their co-partner will keeping on branding their male partner being the physical beast...... This is the law of nature.The males has to ignore it and the females had to speak it. Thanks for you lovely comments.


• India
21 Sep 09
Testosterone or Estrogen should not matter,and you are right where there is emotional intimacy between both the partner,then the things are consider to be going in the right direction,but at the end why its become physical too......and at how long both of the party cannot be physical.....do one knows???? its only when one party is cheating on the other one,then again why the physical things comes into the picture?? please lift the veil off the subject? Thanks for your lovely comments.