How much low can windows 7 go.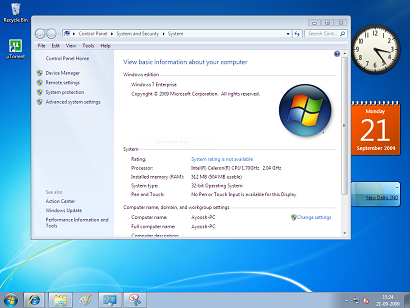 India
September 21, 2009 5:22am CST
I often heard windows 7 running at very low hardware at which vista refused to run. I tried it on my celeron R with 512 mb of RAM, 40 gb HDD, And 32 mb graphics and it ran!!!. Although aero was not there, video payback was not as smooth and windows search was a bit slow, running on 8 -year old technoly (2001) was a great achhievement in itself. Have u ever tried such a thing
6 responses




• Philippines
21 Sep 09
I never installed yet a seven, I still don't have the space to place it on. So far yours the lowest specs I've seen and I'm searching too for how low can seven go. Can you still do common things like doc editing, spreadsheet and internet browsing effectively?

• India
30 Sep 09
We cannot say that the hardware requirement of Windows 7 is very low. But it is not resource hungry as Vista. You need at least 1 GB RAM when you are using Windows 7 and if you wish a fine experience operating it. It works nicely in 1 GB. But it's not appealing. Bugs have been fixed a lot. That's the main advantage of windows 7 over Vista.

• India
24 Sep 09
I installed windows 7 in Vmware Virtual Machine, then i reduced the ram to 228 Mb and it ran but very slowly then i reduced ram to 224 Mb and i started getting BSOD, so minimum ram with which windows 7 will work is 228 mb but you need minimum of 504 Mb ram during installation else installation wont proceed.. and according to Microsoft specifications Windows 7 needs minimum of 1Ghz processor to work properly but i think it can run even at lower processor spec

..