What kind of BOOKS & MAGAZINE DoYou READ?

Philippines
September 23, 2009 5:55am CST
As of now, we can see many kind of Books. In the bookstore you can find, books for cooking, for family, Bible in any version, books being used in school(from kinder to tertiary) and many more. As for me i am prepared to read the adventure story and pocket books. How about you my friends, what books and magazine do you READ that satisfy you?
6 responses

• Philippines
23 Sep 09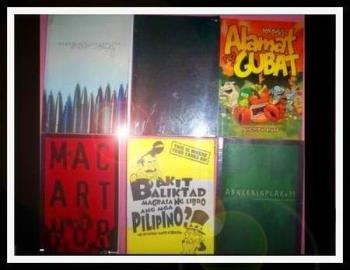 I am a certified bookworm. I do read a lot and I must say I really love books. I usually read novels such as that of Danielle Steel. I also read Stephen King's books. I usually buy them on Book Sale since as we know books are very expensive here in the Philippines. I terms of local, I do read books of Bob Ong. I have all of them and collected it actually. I am really entertained with his lines there. I have the picture here of some of my Bob Ong books.

• Philippines
23 Sep 09
Wow we like the same type of books. I also read Steel but not so much. Mostly Sydney Sheldon. And King's work. I love his short stories. First book I read that was KIng's was It. Shameful but I've never read any local authors. What is Bob Ong's genre?

• Philippines
24 Sep 09
Try to read it. Prices of the book ranges from P150 to not more than P300. I'm sure you'll find yourself agreeing with the author's idea. It's fun.

• Philippines
24 Sep 09
Hello ldel0318,Thanks for the response.Enjoy reading,GoodLuck

• Philippines
24 Sep 09
i like reading novels, paolo coehlo books to be exact. i heard that it is easy now to read books through internet, i haven't tried it but that sounds interesting. Online books will be a big help instead of renting or buying books.

• Philippines
25 Sep 09
Hi stephon8,Good to hear that you've fun of reading books.Its true that the easiest way to researh books is thru internet.We are now in hi tech generation.Thanks for sharing your ideas.Good Luck!

• Philippines
25 Sep 09
What about you hazelrose do you like reading books too? If you do, do you have a favorite? You havent answered if you prefer books or magazine? I only read magazines if i have nothing to do cause i think magazine only teaches us to be self concious, something like that.

• Philippines
28 Sep 09
Hi stephon,Well most of the time I love to read religious magazines,pamphlets or any religious books.

•
25 Sep 09
I like reading non-fiction books but sometimes it gets depressing because they are stories based on reality, real-life events. I read this book, The State of Africa, and I was disgusted with how the colonial powers plundered the continent and how governments in Africa are so corrupt that so many people starve in their countries. On the other hand, I also like fiction books, preferring thrillers to romantic novels (I don't read these anymore. Fine when you're a teenager). A good thriller book is always difficult to put down. Even when I was young, I finished all the Nancy Drew and Hardy Boys series. Any book that has something to do with solving mysteries or crimes interest me. Hmm, probably not psycho-thrillers.


• Philippines
25 Sep 09
Hello involved,AS I read your comments I can say that your a wide reader.Its nice to hear that you've fun of reading books and magazines.Thanks and Good Luck!

• Philippines
25 Sep 09
bible is my favorite, but unfortunately lot of people doesn't read it without knowing there eternal life will be affected.

• Philippines
28 Sep 09
Hi onewayjesus,thanks for the comments.I'm happy to hear that your favorite book is The Holy Bible. I believe that you are a God fearing person.Well for me I love to read religious books and magazines.Most of the time The Holy Bible.God Bless

• Philippines
23 Sep 09
Hi hazelrose. I always read self-help books. It is worth reading since it gives you advice on what to do on issues affecting you. With regard to magazines, my favorite is Cosmopolitan. It has everything you need in a magazine. It deals with career, family, finance, relationship and a whole lot more. It is all packed in just one magazine.


• Philippines
25 Sep 09
Hello jules67, good to hear that you find magazine that satisfy you.Thanks for sharing Your ideas.God Bless

• Philippines
23 Sep 09
I remember the days when going to the bookstore would give me such pleasure. To pick among the books to take home with me. Now I am unfortunate that time does not allow me that pleasure anymore. I have always loved reading books and now have to be content with rereading some of my old favorites when I do find the time. I have read a lot of books but there are a few types that I haven't tried like the biographies, the non-fictional types. I don't really go for magazines that much :)

• Philippines
25 Sep 09
Hi ayenaccsi,Thanks for sharing you ideas about reading books.Try to read other books I'm sure you will enjoy much.Good Luck!