Where i can get a ferret?

Malaysia
September 23, 2009 2:47pm CST
i live in Malaysia. but i couldnt get this cute ferret here. and i do love this thing so badly. does ferret bite? as i know ferret are very playful, can live in house, and cute enough. i just hope i can get one. please anyone can help?
3 responses

• United States
23 Sep 09
petco, petsmart, local pet stores. NOW remember a sable ferret will chomp down on ya and are harder to train, if you can get a silver ferret very mellow but remember when they do bite you and sooner or later they will just flick the top of their nose easily and they'll release, EASILY.... i used to raise ferrets for pet stores and the silver ones where the best. get one of those long tubes that stretch out to about 10 foot and loop it all over he or she will love it. and get a good ferret food, make sure its a dry food so their teeth will stay clean, and plenty of water, enjoy.

• Malaysia
23 Sep 09
Wow, i dint actually think bout those basic caring. thanks for telling. owh yar... do they smell bad? because i seen alot of them just leave it in the house walking around freely... will they poop in the same place or how?

• United States
24 Sep 09
they tend to back into stuff when they poop like corners and they will go in the same spot. you could also make a rabbit hutch and let him out for a time during the day. if you do let them out depending on where you live and the climate dont let them out long, especially the sable's as they'll get sun stroke if they dont have a shady spot and lots of water. when their young no longer than 10 minutes in direct sun when its hot until they get older. you can put a small coop in the hutch for them to get out of the hot sun. the reason the sables get hot fast is because of the black fur so be careful but you'll get to know your ferret their really a lot of fun and they can get into any hole they can get their head in, i lost one in a wall of the house one day, seems i had a house mouse during the winter looking to get warm and the ferret crawled right into the hole and into the wall then i had the rip part of the wall out to find him, cover all small holes. now you can get the ferret de-sacked and it will just leave a slight musty smell and its not bad at all, its like getting a dog neutered. ask the vet how old before he has to be before you get it done or if it doesn't bother you dont do it ..its up to you

• United States
23 Sep 09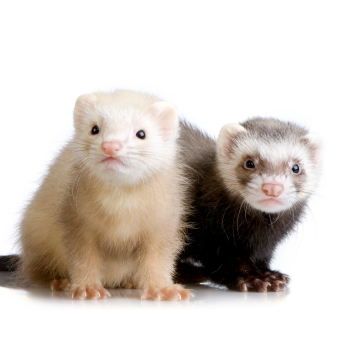 I have a ferret I got in Febuary she is now 8months old. I bought her at a local pet store. Some states and countries you are not aloud to have these animals so you should check with your laws before you purchaced your new pet. Ferrets will nip but it is out of play if you teach them to be aggressive they will bite. My ferret dose not bite I stopped her by doing so. I have taken 11 books out of the library about ferrets and have read Ferrets for Dummies the first edition. I bought the second eddition but didnt read it yet I just got it. They can roam your house wants you train them mine roams during the day and is caged at nite. They are very friendly and love to play. Also they require alot of attention. and need at least 2 hours of interactive play with a person per day. I learned after I bought my female that males are more affectionet then females and love to be held more then females. I hope you can get one. When I was younger I have always wanted one but my dad didnt like them so I was not aloud but when I got older and got my own place I finally got my ferret.

• Malaysia
23 Sep 09
Cool! so do you have any i dea how to hanldle their poop since they are stay in the house? and do they smell bad? or taking them to bath? wow...you sure are good enough having two ferret now! have babys now? im sure are easier to take care for babys ferret!

• United States
24 Sep 09
I only have one ferret that's just a picture I found to put on with my reply. I have litter boxes in all the corners of the house. She did not have babies when you buy them there usually sprayed or neutered. Females don't smell very much as the males smell more.