How would u feel?

India
7 responses

•
26 Sep 09
of course i felt bad and get upset and hurts to think that your own family stole from you....so sad and hurting if someone you trust, your family, will be the one doing this, stealing things from you..:(

• India
26 Sep 09
thanks craicha, for your response and it hurts a lot even it is so difficult to have faith on him again. he was not immediate family but he is a distant cousin but otherwise close to us and he would come a lots and lots of time to our home and he didnt steal money but took my lastest DVD without asking and when i asked him if he has seen my dvds he denied it. But my brother found them in his car. he left them there and i didnt talked to him about it as it would have destroyed our relationship. but somehow i lost the faith in him.

• Garden Grove, California
26 Sep 09
asweetie hi yes I would not like it at all and would really'scold the person for doing that, I would probably say, now if you had just asked me, I probably would have lent you that, but now I do not trust you any more. You are just lucky I am family or I would call the police.

• India
27 Sep 09
hi hatley, Thanks for the response and i didnt like it too when he ( distant cousin)stole from me and though i knew it and could have proven easily as my things were in his car..my brother saw them there.. but i just asked me if he has seen my things and he said no. I didnt want to ruin family relationship on small things so i kept mum but he has lost all the faith i had in him.

• Canada
27 Sep 09
Betrayal in any form is one of the most difficult things to forgive someone for. It is twice as difficult when it is a trusted friend or a loved one. I would like to say I could be big enough to forgive a family member for theft, but deep down inside, I am afraid it would always be with me. I believe in forgiveness, and I do try to forgive others, but in this case, you would certainly never forget it, and therefore, it would always be with you, if even in a tiny little way. You can forgive him his transgression, while in no way accepting that the behaviour was right or just. Forgiveness can begin the healing process for you. This is a tough situation asweetie, I hope you can work this out in a way that is good and acceptable for you. Good luck!

• India
27 Sep 09
I would feel frustrated, cheated and hurt at the same time if a family member stole from me. I would never trust him again but would definitely confront him as to why he had to steal from me and not ask me for whatever he had stolen from me.

• United States
27 Sep 09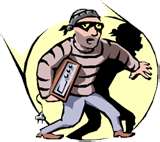 Hi asweetie,Its very hard to trust again! I had to take my daughters key to the house away when her and boyfriend were acting crazy. My nieces and nephews do not come in unattended nor would,I trust my brother in law.Until a few years ago,I would have never saw this feeling of untrustworthy people. I always try to see the best.till the give me reason to not!

• United States
26 Sep 09
No, I wouldn't. I would be very angry with him/her. I wouldn't let this person in my house any more unless I was going to be here all the time. I also wouldn't let them borrow anything from me because they might not return it. I have a sister who has borrowed things from me in the past and she never has returned them. Now, if the family member admitted to me that he/she stole something from me and gave it back and they asked for my forgiveness, I would forgive them. Kathy.

• India
27 Sep 09
hi kathy, thanks for the response and yes i too lost faith in him and i am sorry your real sister would not return your things and thank god he wasnt my real brother but a distant cousin but now i can not let him be alone in my room and i have told mom not to let him go in my room when i am not there.

• Philippines
29 Sep 09
well the first thing you do is do not show your feelings that you don't believe him or her...coz that is your family member..give him or her a second chance to realize that he or she is not doing good thing they do..let them feel that they are part of the family do not show them that your trust is gone..coz the more you dont believe them the more they do..its better that the counsience of them tell that we are not doing a right thing..so you are teaching them that the bad thing they are doing is not the right thing...