Hello My-lotters, I want you to meet "Cutie"

Philippines
September 27, 2009 12:06pm CST

I've been wanting to say this for quite some time since I have already mentioned it in some of my responses. but i was thinking twice whether i should share it to you guys, this isn't the first time i have shown a cat in mylot, probably in this account but before I've shown some of it so many times. but when ever i show it to my-lot something bad happens, like the recent cat that actually died when i was looking for her as my mom told me to send her away

. but i realized it wasn't fair not sharing with you people because i know that am not the only pet owner in this site..because sometimes i get jealous seeing it off line and on line when ever pet owners having their same old cat while i keep having new ones and other ones sent away...or sent away then i would found them dead later on. I found her very thin in a side-walk, i thought she's not gonna make it but luckily my mom had given additional food, and Now she's a bit fat even at her age, she eats dry cat food but my mom sometimes gives her left over fish which she enjoys so much.. I can still change my mind though, but let me introduce you now to her, I welcome you,
"cutie"
i told my niece about her name, but she suddenly express this grin facethat gorjee used to express in her avatar once .maybe she didn't like it (name), i don't know about you.. http://www.shareapic.net/View-19461384-Cutie-Cat.html In additional thing , I have a very sad news to all, I found another kitten two days ago. but as I walk to her she quickly just grasp and walked away fast, well i know first impressions scary, and then deeper in the the trees and big weeds. i couldn't go on because it's gonna rain and the soil is a bit wet that i might sunk in a little bit like a quick-sand. I just walk a way knowing she wouldn't come one. am sorry guys i failed to save this other kitten, if only she didn't walk away, i was optimistic to come back but when the storms hits in for two, i couldn't sleep straight knowing what has happened to that kitten..since the storm is passing out of the country, i will go back to that area tomorrow and see if the kittens still alive..I hope so.there wasn't much of a flood here but that area had some small man holes on the soil.
5 responses

• Australia
28 Sep 09
You have a good heart LetranKnight...I love Cutie, she's so beautiful and small! She is very fortunate she has found you to take care of her. I do hope you find the other kitten you came across. It is a worry when the weather is bad knowing they are out there exposed to the elements. Good on you for caring and all the best to Cutie, I love her!


• Philippines
11 Oct 09
hello paula,

Thank you. i just have a soft spot for cats. well, i do hope she likes it here, she's beginning to enjoy it at least. when i found her she was really thin and i thought i would have hard time feeding her, but it turned out good and she's now alright. the weather was bad alright, but now it's a lot better.



• United States
27 Sep 09
Good luck with cutie and I hope you find the other kitten, two are twice the fun to have around. Blessings

• Philippines
11 Oct 09
hello savypat,

thank you so much for dropping by. well, i haven't really been going out lately, well, if i evre found another then it shall e cuties play mate. for now, i think she enjoys her being groomy and playful along. you are right they are twice the fun and laughter when cats play fight..



• Philippines
11 Oct 09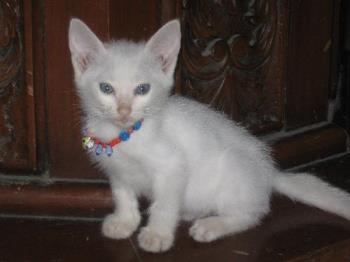 hi letran. i am not into dogs or cats, really. but i have grown to like them because my children really love them. just last week, a friend dropped by to give us 3 little kittens. they are so cute and very active. my 3 children have claimed one each for each of them and have given them separate names. i would like u to meet "sinbad", my daughter's kitten.

• Philippines
11 Oct 09
Hello moneymakingtoday,

awwww, that kitten is so cute, i can't believe am seeing a shining cat there. oh, okay so this is a guy kitten, right? if there in your house, am pretty sure you have the good chance of taking care of their poop for sure. my cat have actually sty out side but she has a litter box near her house.




• Philippines
2 Oct 09
oh! such a cutie indeed! wellwe have so many stray cats around. but one specific stray cat is with us always! he is the King of our house... he is Tam!!! he is a good and very charming cat. and loves to play on mices and rats! whew! he is just so good at it. meet my cat tam... ill be telling about him soon. and he also got a video... be giivng it out soon as well... lol!

jhelai


• Philippines
11 Oct 09
Hello Jhelai,

Yes, she is indeed cute, must have been hi hobby there to play with mice and rats. i think i have seen him in the picture somewhere in your profile. whoa i didn't know you have a video of him, wow i can't wait to see him soon. but of course, i know you're kinda busy for the moment. have a great day.



• India
11 Oct 09
She looks really cute and playful too. More than playful. I mean my first cat, she was so naughty(?) she always chased me and never failed to bite or scratch me every now & then LOL I was just a little submissive child then! I hope the other kitten got some help for itself as the cat I mentioned was good at such acts... I too had two cats(one after other) one of whom I just mentioned. Second one was so cute and so dumb too:) Now my mom doesn't allow us to have more pets So I am satisfied with feeding stray cats only