Is there an instrument whose sound really moves you?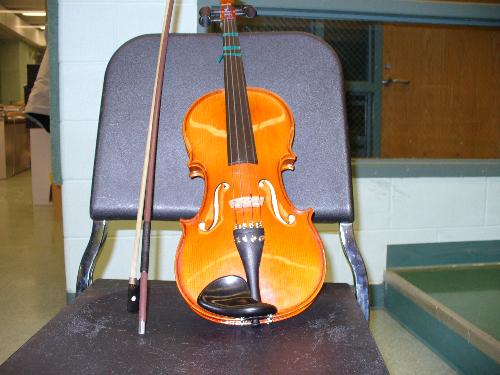 United States
September 27, 2009 2:24pm CST
I pretty much like most instruments. I mainly have experience with the violin and its fun seeing how many octaves I can go on it. I don't remember how far I can go but I know how to make my ears tingle. I think the drum really makes me move the most mainly because it can say more. Violins are usually more dramatic but life isn't suffering. Have any instruments that make you think, feel, or dream differently?
9 responses

• United States
27 Sep 09
Violins do make beautiful music. i am more inspired by the sound of the saxophone. Listening to a melody played by a saxophone almost puts me in a trance. Such a romantic instrument!

• United States
27 Sep 09
I actually forgot to mention that I wanted to learn the sax and join the Jazz band. I can definitely agree about its romantic-ness (sorry for that english error) and it doesn't have the same limits as the violin and can create music of love, hope,fear, sorrow, and more.

• United States
28 Sep 09
Listening to the saxophone brings out many diffeerent kinds of emtions to different people for different reasons. Did you get to learn the sax and join your jazz band?

• Canada
9 Nov 09
Yes, indeed, each type of musical instrument is unique in the ways it creates the sounds and rythms. I do like all these instruments. I would say one of my favorites is the saxophone. Very enchanting and very smooth. I don't play it myself, but many of my friends do, and they are so beautiful. I hope I can play it too, some day.

• United States
4 Oct 09
The three instruments that move me the most are the cello, french horn, and piano. The cello and french horn both have a really mellow sound, and when played well sound incredible. The piano depends on the song, but I especially like it with other instruments. If you're interested in music that is just really incredible, check out William Joseph. He is a piano composer who plays with full orchestral accompaniment. My favorite is called Beyond, and it is probably one of the most incredible songs I've ever heard. Others I'd recommend are the songs Within, Eternal, and Standing the Storm.

• United States
30 Sep 09
I think the violin is beautiful as well.. Personally, my favorite instruments are the piano - it's so beatiful, so flowing, just so perfect - and the bass guitar. I don't know what it is about a bass guitar, but I'm just in love with it! I also play the clairenet, which, when played right, is quite a beautiful sound itself. All music and all instruments can be beautiful, however, I believe.

• United States
29 Sep 09
I think the only instrument which has really moved me (besides the drums, since I have a deep respect for drummers since I can't keep time on a set of drums if my life depended on it), is a good voice. Whenever I hear a singer who sings really, really well, and I don't mean decent, I mean a lyricist/singer who uses the right words at the right times with the right notes with the right inflections I just stop and listen and stand amazed. This rarely happens.

• United States
28 Sep 09
The guitar and fiddle really move me. Just seem to make me week in the knees when played really good.

• United States
28 Sep 09
I love the sound of violins, but I've always been partial to flutes. They can be dramatic, or fun and silly-sounding, or just impressive. Also, if you learn to play flute "rock style" (a la Jethro Tull) it can make a really cool grindy noise that can sound very cool as well. I also absolutely love the sitar. It's an instrument with so much personality, you really can play it as if it's singing.

•
28 Sep 09
Recently I have been listening to the famous song of Pitbull-I know you want me, you know I want cha. I like the song a lot and I do not know exactly what are the instruments they use to make such a sound which makes me dance a lot.