I'm In The Dog House Again..... I Give Up!!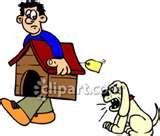 United States
September 29, 2009 2:29pm CST
I can't win for nothing! I'm so sick of trying so I'm giving up once and for all. Here we are, doing everything we can for my parents and yet we're the bad guys. Yesterday hubby and I were in Climax passing out flyers on Lil Tux, the cat that the Spay and Neuter Clinic switched with 3 other cats and a lady took home and set free before she realized it wasn't her cat. Now he's gone and we haven't seen him since the 15th. However, after talking to some people, one guy who lives next door to the lady who took him, said he's seen him the day before which was Sunday the 27th of Sept!! Whew! That's great news and here I am so excited that I want to tell my parents! (Yeah, right) Well on the way home, we ran into a huge storm! I mean, rain just pouring out of the sky like someone had turned on the faucet on us! It lasted a few minutes then we drove out of the storm, thank God! Then I called my mom to tell her and she had to call me right back because she was in the middle of something. Well, she called me back and good grief, the woman renter had gone off on mom again and wouldn't shut up. She called mom everything in the book but a white woman and wouldn't shut up even for her husband so mom called the police (duh?! She did? What's the occasion?) The police finally show up after they were called several times, oh, they were in the middle of a shift change is why it's taking so long.... finally they show up and tell my parents that this b*tch can do what ever she wants as long as she's on the property and that there's nothing my parents can do about it and that the renters have more rights than they do! Mom said the one cop was an arrogant jerk towards them. When the cops left, the husband told mom that they'd be out on the 4th of next month then proceeded to tell her to keep the deposit to pay the electric bill. Mom told him that it's not for that but for the damages that they have done to the place (which is a lot according to mom) and the husband turned on mom saying this and that this needed to be fixed but my dad hadn't gotten around to it and he guessed that he never will. Mom was just carrying on about it because she was so damned hot to trot mad and I'm worried that if she doesn't calm down, she'll have another stroke and dad could have his last heart attack. I asked her if she wanted me to come up there and she said no that the idiots are inside their place now and everything is quiet for me to stay down here. Ok fine. Knowing that they need that rent money to survive, and repairs on that place next door, plus the electric bill, we can't support all of this by ourselves so I sent a text message to my two brothers and foster brother and explained in the shortest way possible and explaining that mom and dad will need help with the lack of rent money as well as repairs until they're able to rent the place again for we can't do this alone again and everybody needs to put in their 1/4. A few minutes later, I get a phone call from mom asking what I had done and said to my brother and to please not call my one brother and tell him (the one that I'm not on speaking terms with) which I told her that I had already sent him a text message and told her what I told him and my oldest brother and foster brother, all except that they'll need help and that we can't do it alone again. Why? Because I'd hear it all over again about how she wishes she could just die or I wish I never had taken your money to begin with bla bla bla so I didn't tell her. You see, I've been giving mom some money here and there, $40. here, $60. there for the past 6 months if not more and the last three times was $100. which was given within the last 2 months! She takes the money and says I wish you two would stop this and puts the money in her pocket. Mixed message here? I don't mind helping them but damn it all! Do I look like a bank? Why shouldn't I tell my brothers??!! It's not fair that we're left behind to hold the bag while they continue to live out their lives and are able to take cruises and go on lavish trips while we're here only dreaming of doing such things!! My middle brother has been to so many places including overseas!! My oldest hasn't been to many places but he has gone on a cruise last year during Christmas time. What did we do? Uh.... I took mom and dad to see the Christmas display. No gifts were exchanged because none of us had any money! But you can bet that my brothers had gifts to give their kids and so on! I'm talking ADULT kids!! My oldest does have a young son so yes, of course, he's going to have gifts for him but the older kids.... you get my drift, I'm sure. So anyway, mom is po'd at me for telling my brothers that they need help but yet, mom will take money from me! Is it because she can't tell the same story to them as they tell me? They always tell my brothers something different than what they tell me. I don't know why but they do. So I'm in the dog house once again folks! I can't do a damned thing right. Never have and I guess I never will! If you were in my situation, what would you do? Please, if I'm in the wrong, tell me how. I want to know. I NEED to know!
7 responses

• United States
29 Sep 09
As long as u continue to let them do u this way, they will!!!!!U have said over & over u were throug, it's past time that u are. I don't understand why u keep on letting them hurt u this way.

• United States
29 Sep 09
Well, dad was the one who told me about the house being dirty and it getting on mom's nerves. She won't tell me! Dad said he can't handle outside work and inside too so to get mom to shut up, no pun intended, he has to let me know. We had been up there, I know, two weeks before and cleaned their house really good so why it was so dirty so soon this time, I don't know but dad told me it was getting on her nerves and driving HIM crazy so that's why we went up there when we did. Other than that, we stay away. I called mom to give her the good news about Lil Tux and found out about all this. Why couldn't my brother have called me instead of our parents?! He knows what they're all about!! He knows they're not going to ask for help and it was ME who sent the message, not them!! Some times I wish I could knock my brothers upside their heads!! ARG!!

• United States
29 Sep 09
U try harder than anybody i know to get along w/them, Cats but it 'ain't' going to happen. Your brothers need knocking up side the head, big time. They don't call u because they know u have their number.

• Garden Grove, California
30 Sep 09
good for you Antique lady, I do agree wholeheartedly. those brothers need well just what you said.


• United States
29 Sep 09
You didn't do anything wrong, your brothers should be helping take care of your parents. I don't know why your mom wouldn't tell them the same things she tells you but that's out of your control. Don't give her any more money unless she asks for it, either.

• United States
29 Sep 09
Thanks because I sure do wonder sometimes. Can you imagine why?!

Gee, to be told this and that and so on in which I try my damnest to help and tell my brothers about it in hopes they'd help too, put me right in the damned dog house. It does every time! If you would, come back here and see my response above for it's a bit more descriptive and long. Thanks so much sweetie! And no, I can't catch a damned break any where!

• Australia
30 Sep 09
Oh Cats, you poor thing! Talk about being unappreciated! Like others have suggested I would stop being the so called bank to your parents until they ask for the help. I know you love them and care so much for their well being but you have to consider your own needs and those of your husband. It doesn't seem fair that your brothers are not helping and as far as I can see you didn't do anything wrong asking them to chip in, why should it be always just you? And if your parents can't see that…. You have to toughen up with them a bit and take a step back until things calm down and put yourselves first for a while!

• United States
30 Sep 09
You are not in the wrong, but it seems your parents are only comfortable with you knowing their situation. I am so sorry you are dealing with this again. If you need to talk, you know where I am.

• Garden Grove, California
30 Sep 09
hi catsanddogs no you sure are not in the wrong. If your brothers can afford cruises then they can afford tohelp the man and woman who birthed them and raised'tehm and now its time for them to help their own mom and dad, ' you have already done more than your share Cats,now it is your brothers turns. If I were in your situation I would just do what you want to do , ask your brothers'to use the money that they might have spent on another'vruise and help their dad and mom now. You are if anything too good to your mom, and they need to help you out. okay?

• United States
29 Sep 09
I agree with Oreo, Cats. Your parents are who they are and it's highly unlikely that they will change now. From what you've said previously, I'd say that your parents need more help than what you can give them. I'm not talking about your brothers coming down to help, either. They sound like they are unable to take care of themselves. No, they ARE unable to take care of themselves because they are always asking you for help, yet never appreciating you the way you should be appreciated. I wouldn't suggest anything like this if it hadn't been for my own sister being in this position. We had to put her in a nursing home. She could not take care of herself and we could not take care of her. With my parents being old and me with my disabilities, we couldn't lift my sister out of a bathtub or out of her wheelchair into bed or vice versa. She needed more care than we could give her. Your parents remind me very much of my own sister. They need more help than you can give them, at least where they are living now. If they lived with you, that would be different. You wouldn't have so many issues to deal with. Things would not pile up on your parents like they do. They wouldn't have to worry about money. Your parents obviously need help. You cannot continue to help them the way things are now, especially when you always get the short end of the stick. If these were my parents, I would tell them that they had to move in with me or I would start the process of becoming their legal representatives and moving them to a place where they would get all the help they need. If someone cannot take care of themselves (cleaning, taking care of the yard work, etc.) they should not be left alone for any length of time. Needing help from your brothers with your parents and having it happen are obviously two different things and that won't change. You need to think seriously about what your parents really need and make it happen. They will be happier and so will you. Assisted living places are all around. They could have their privacy yet get whatever care they need as soon as they need it without you having to wear yourself out. That's what I would do, anyway.