Cats favorite toy

United States
September 30, 2009 8:30pm CST
I was recently playing with my laser light and my cats were going nuts over it. They love to chase it around. When I turn it off they go around and search for it like they are on a mission. It is so cute watch them run around and have so much fun doing. I love to see my cats happy. It make me smile to see they are having so much fun. My cats are easy amused. When they see me with the laser light the sit at my feet until I trun it on. I love to see their reactions.
10 responses

• United States
1 Oct 09
Hi Tuckersheri My cat used to love the laser light! It was in the shape of a little mouse and its nose is the laser , He still likes it but he not as much as he used to unless I beam it under a blankets or behind the curtains or up in the ceiling and walls he likes that . But he loves almost anything that dangles from a line he will go wild for that he likes his fish toy I run around the house with that he chases it wherever it lands he also likes his pet mice with catnip on them he tosses them up in the air and plays with them a lot as well.


• United States
1 Oct 09
I have 2 cats one goes nuts for it. The other is lazy. The one is hyperenergtic keeps bothing the lazy one. Expecaly when their is a lazer light near the lazy one. It is kinda funny watching the lazy one get into shape be cause of the other cat and the lazer light

• India
1 Oct 09
Another you can try to amuse them. Get a woolen ball, throw it before them and then watch them how they play with them. I have once a big family of cats and the babies favourite play was to play woolen ball which my mother drops while weaving a woolen sweater. My duty was to open the knot tied during the mischiefs.

• Philippines
1 Oct 09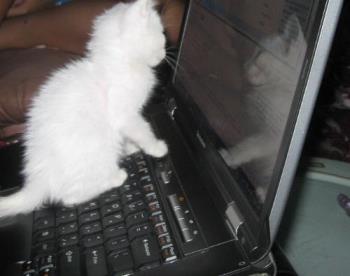 we have 3 new little kittens given by my co-worker. we have them for 5 days already and we love these new little ones. as a toy, my daughter dangles a piece of ribbon, jerks it and the kittens follow it wherever my daughter leads them. just early tonight, my oldest son placed one kitten on his lap and the kitten's attention was caught by the moving cursor on screen. the kitten stepped on the keyboard and followed where the cursor moved (son moved it here and there). we discovered a new toy for the kitten ... (but we won't do that again ... what if he pees on the keyboard?)


• United States
1 Oct 09
My cats love the laser light. It's just as amusing for me to watch them chase it as it is for them. I like putting it on their paw and then they try to grab it, but can't fingure out why they can't. LOL

• India
1 Oct 09
cats favourite toy is pus sy...a healthy pus sy to whom which they can make love...

• Canada
1 Oct 09
My cats go nuts for lazers too! when i was little my brother had his friend over once who had a lazer and he was aimlessly playing with it and the cat started chasing it and meowing like crazy over and he placed it on the wall and my cat ran stright into the wall it was the funniest thing i had ever seen i felt bad for the cat but it was still so funny. and when the lazy was turned off she would continue to meow and search for the lazer all over the house. Happy Mylotting!

• United States
1 Oct 09
All my kitties like laser light tag too. They will follow that thing all day if I let them hahaha. They won't play with regular cat toys, like the catnip mice, and stuff like that. One thing I play with them my family has named 'fishin' for kitties.' I took a sturdy twig about 4 foot long, and attatched a long sturdy string with a feather on the end. We sit on the sofa and trail it around and they just go wild chasing it around. Even my 18 year old cat will play that one. I find it funny that when guests come over they ask if they can fish for kitties, and the cats know exactly who will play that with them and sit by their feet until they start the fishin' game haha. You're so right when you say they act like they're on a mission!

• Malaysia
1 Oct 09
My cats love a flush toy that I got from McDonald. It's a small Garfield and the kittens can bite and carry it around the house. They even become angry if I try to take it back. Not that I really want to take it back but it's cute when they're angry for something like that. There's only one toy, so the kittens have to share. Apart from that, they love one of my hair band. It's fluffy and soft. They also like to bite it and take it away. I already let it be their toy, I can get a new one.