I am father!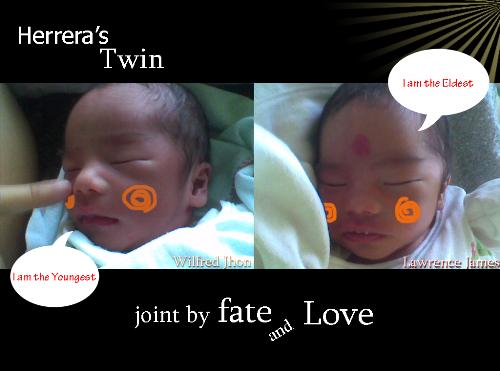 Philippines
October 5, 2009 6:59pm CST
I was so happy that my twin came out healthy! last september 27 my wife is scheduled for cesarean (I don't know the spelling correct me if wrong) and I've seen my body!:)) this isn't interesting for others but I just want to share how grateful I am to have them!
6 responses

• India
6 Oct 09
Hi First let me congratulate you for becoming a proud papa for two beautiful bundle of joys. It is indeed a great feeling and the moment of joy to celebrate. May God shower your babies with longer life with all joys, comforts and happiness in life. What name you are going to give for those beautiful ones?

• Philippines
6 Oct 09
Thank You for the blessing! I named them Lawrence James and Wilfred Jhon. I was away from them now because I have to work. I miss them already.

• India
6 Oct 09
Take leave from your work for a couple of days and enjoy to the fullest with your new world

• United States
6 Oct 09
Aww, they are so cute; bless you all for your new additions.

• Philippines
6 Oct 09
addition or multiplication! :)) equals total happiness


• Philippines
6 Oct 09
Thank you for the complement!! hope you'll be happy too!

• United States
6 Oct 09
Congratulations to you daddy on your newborn twins. You are probably one of the most blessed father's around to have two new little ones to enjoy. They are absolutely adorable and I hope that you will share with us as they get bigger and more active. I've heard that it is a great pleasure to be a parent of twins, but I can't be positive because I've never had the experience of being a parent of twins. Good luck to you and your new, larger family.

• Philippines
6 Oct 09
they say that twins is rare. and only those who have traits can give birth to them.. and I was one of them at her 1st 3 months of pregnancy we never new that it is twins.. luckily they we're not aborted because our stair is about 85 degree up because our house is newly built and we live in 2nd floor. Until we got her ultrasound we we're shocked when the obgyn asked us who among us have a traits of twins. and we both don't know they obgyne told us that it is a twins and I was in a state of shocked and happiness!

• Garden Grove, California
6 Oct 09
hi zaphan wow you must be one very happy proud papa of two babies, and they are just adorable. Congratulations to you and to your wife,twins will be' such fun for both of you. and she is healthy and the twins are healthy. what a great thing to happen to 'you and your wife.

• Philippines
6 Oct 09
yeah! I was so nervous that night I thought they will be unhealthy because they lack in days... it came out early supposed to be they will come out by 1st week or 2nd week of october, Thank you for greeting! do you have sons too?