Do u have a cook at your home or u cook yourself?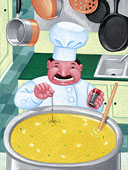 India
October 6, 2009 12:34am CST
Now a days when women have started working out, they don,t get enough time so they keep somebody for cooking so it saves their time and meanwhile they can do some other work . I am also working but don,t have cook but always wish to have somebody for help. What about u? Please share.
6 responses

•
6 Oct 09
In my household, i run the kitchen myself. My wife used to complain why she cant get hold the kitchen and I always say because it's my forte. We are both working and we have 3 kids but I still managed to do the cooking myself because I know what I love to it and how it is done. Not that my wife does't know how to cook! It's just that there are taste buds that differ and most of the time I trust my taste bud than wife's...

• India
6 Oct 09
Thanx, How do u manage time for cooking? Then your wife must be getting lot of time for other work. That,s good. One of my friend is also like that . He himself cook his own food as his taste buds are also very different.

•
6 Oct 09
I never have difficulty adjusting. I've been in charge of the kitchen since early adulthood. My father thought me how to cook. SO you see, it runs in the family. My wife attends to our little kids after work. She bathe them, read to them, play with them then finally put them to bed. My kids are all little ones so they sleep early at 7:00pm..

• Philippines
6 Oct 09
Most member of my family knows how to cook. this one talent that is passed down for generations. An added bonus is that my wife loves to cook too. Even my 9 year old daughter know how to cook. even its just a simple omelet, the good thing is that at early age, we have taught them of cooking.

• India
6 Oct 09
Thanx for response. good to know that everybody knows cooking. this is really very good habit as u are never struck in absense of your wife. and moreover sooking is very thrilling and exciting work. isn,t it? have a nice day.

•
6 Oct 09
I am a full time stay-at-home parent and one of my principal chores is to cook. Cooking takes a lot of time especially if you want to do it right. It is not merely boiling rice or frying some meat and that's it. As my husband is the sole breadwinner in this family, I make sure that he gets proper, full course meals. This means having a soup as a starter, the main course (meat, fish or poultry), accompaniments like rice, mashed/gratinated potatoes, salads, veggies and sometimes, dessert (mostly on weekends). My meals are different each day as he does not really want to eat the same dishes in a row. Now, if I were working outside of the home, he nor my kids wouldn't get this luxury. They will end eating a lot of take-aways and sandwiches unless we hire a cook. I will not bother to cook at all. Why work outside and at home as well? He has to pitch in cooking, otherwise, it will be fastfood for us.

• India
6 Oct 09
Well,i also work but i don't have any cook.My family does not like to have.So i don't want and it cost money also.We are 4 members,and,they eat what i serve them.But sometimes i buy from restaurant.

• United States
7 Oct 09
I love to cook, just graduated the Ft Lauderdale Art Institute Culinary and cook pretty much everyday..Right now I'm involved in testing my own recipes which I will be posting in my new blog which hopefully will be up and running just before Thanksgiving..Its a lot of work to prepare for and to make it fun and interesting and something that people will come back to again and again. I am also very busy with other projects so sometimes on the weekends I will prepare ahead meals for the upcoming week and freeze them. Its nice to come home after a long day and have a home made meal in 30 minutes or so. I would ever entertain the idea of having a cook. Number one I couldn't afford it and secondly I hate anyone in my kitchen..Thats my territory and everyone I know knows it!! I have sworn off fast food, except for the occasional pizza and chinese food from a great place near by. Fast food is expensive, usually not healthy and never satisfying to me. I like being in charge of how much fat and salt etc that I eat and cooking myself is the only way to do that..Maybe you could get together with some friends and cook a bunch of things together and freeze them like I do. Food brings people together and you have fun and learn from each other all at the same time. I also like to host "theme" nights where I pick a style of cooking and everyone contributes something, Its really fun and the possibilities are endless..Good luck...J

• Malaysia
6 Oct 09
We don't have a maid at home so we have to cook our own food. But it's fine as I love cooking (more like experimenting and testing on innocent victims in the house) The joy of cooking is to find people really love your meal and their reaction when we're eating together. I am also working but I still managed to find time to cook. What I learn is to always prepare the ingredients beforehand. If there's too many ingredients to used for breakfast, prepare what we can at night. That way we won't be rushing to cook in the morning.