What I use to scratch my back?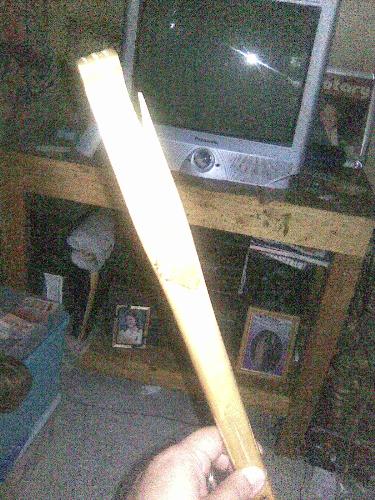 Philippines
9 responses


• United States
19 Aug 10
Hi, mimiang. I do know that my grandmother used to have a back scratcher that had fangs that looked like a comb. I used it to scratch my back and it really helped me out. My back was no longer itching. I could use this right about now in my life. My back stays itching, especially when it is very hot outside!


• Philippines
12 Oct 09
Good day to you mimiang, I remember when I was young. We have this kind of wooden stick which is used to scratch in our back. Then I still remember, We bought it in Baguio city. This little stick is really gives a very useful and it gives happiness to all who have a itching part at the back.

• Philippines
9 Oct 09
Oh, we have that too in our house. My husband always uses it. Me, I'd rather have a human hand scratch my back! I know someone who uses a fork to scratch his back. Yucks! I sure don't want to eat at their house!

One friend uses the door post much like a cat rubs his body against a chair leg.


• Quezon City, Philippines
7 Oct 09
I guess that is just a part of almost every household nowadays. In the provinces, they are the ones that are usually sold as souvenir items. They come in different colors, design and textures. I am pretty sure in every province they have their own versions of it.

• Philippines
6 Oct 09
We used to have that at home when I was younger, it really is very handy . . .lol. What to do when you don't have that tool ? hmmm... a few things come to mind and one thing that stands out is to have someone scratch your back...heheheh

• Philippines
6 Oct 09
Good day to you my friend mimiang talking about something to scratch our back well for me I am not used to buy wooden stick because it's expensive what I used to scratch and is highly economical is the WALL or edges of the house try it my friend it very effective try to position yourself in an edge of a particular wall in your house try it its gonna be wonderful and amazing hehehe.

•
6 Oct 09
My father had nearly the same but battery-operated gadget. When I was young, I used to scratch my back against a rough surface or wall. I have children now so when my back is really itchy and I can't reach it, I ask my kids to scratch it for me. I also ask my kids to pull out my gray hairs at the back of my head. Impossible to see this one even with a mirror.

• Sweden
6 Oct 09
Hahhaha, I wish I had something to scratch my back and head. I was actually thinking about buying something like that stick but for my hair also. I want it to be scratched 24/7! Isn't there a job like "professional scratcher"? Hmmm.. I would like to hire one like that :/