If you met your God.....

United States
8 responses

• United States
7 Oct 09
I would, at first be awestruck. Then I would ask questions so rapidly that God would need to tell me to shut up. Questions would include: Why are people allowed intolerant? Why do you allow people to misinterpret your words and use them to hate belittle/hate/hurt others? Why don't you mark the parts of book which are actually said black and if anyone added anything else it would be orange? I'm a writer so this seems logical to me. I check what people put down when they type for me. Why don't you do that?

• United States
9 Oct 09
[b]I would protest your claim that everything is as bleak as you think. I hope for your sake that you find the joy God's love offers! It's easy if you ask Him with a humble heart. The answers to your questions are all in the Bible, dear, but it really boils down to this: God loves us so much He made us with free will. He never forces anyone to worship Him, but asks them to come willingly to Him. Keep reading & I believe you'll see why this has caused so much misery--which isn't His fault! Our First Parents decided they could do without God, & disobeyed Him out of pride. Since God is pure, & Heaven is pure, & pride is the worst sin there is, He had to make them leave. But He gave them the knowledge of how they might return. He lets us--as always!--choose to use that knowledge...or not. When we don't, as surely as breaking the law of gravity, we fall spiritually. This affects our souls, the souls of others, & the physical world around us, as you've noted. BUT, He won't let this go on forever! Not only has He sent His Holy Spirit to guide us down the spiritually safe path, He will one day send His Christ (that word means "The Anointed One," by the way) back. Then we'll all be judged. Because He is infinitely merciful, & because all of us have come up short spiritually ("sinned"), He will spare everyone who has put their faith & hope in Him, & not ourselves. That's why evil things happen (for now). It's our fault, since we choose to do evil. It's only His infinite love that gives us life at all, & His grace that saves our naturally sinful souls. If a person doesn't know God exists, by the way, they have less to answer for than one who does, yet still chooses to do wrong things--knowing they're wrong! One last thought before I go: the word "sin" comes from an old English word, "sinne." The definition of sinne is, "the sound an arrow makes when it misses the mark." If you hit the target--even if you don't get a bulls-eye!--there's no continuance of the hissing sound, but a solid, reassuring "THUNK!" So when you aim for spirituality, & completely miss the goal, you sinne! "We have all sinned & fallen short of the glory of God." Maggiepie "WHERE'S THE BIRTH CERTIFICATE?"[/b]

• United States
7 Oct 09
I think for a good long time...if time exists where God is...I'd just bask in the LOVE. What words can describe that?

• United States
7 Oct 09
[b]"
Them?
" Well, wait...God
is
a trinity, so maybe your grammar's correct!

When I meet Him, I'll prostrate myself before Him, & not
presume
to speak until I was asked to! Whatever I said would depend entirely on what
He'd
said! I mean, He's
GOD
!

Maggiepie "WHERE'S THE BIRTH CERTIFICATE?"[/b]

• United States
8 Oct 09
Ok so He says " ask me any question you like" What do you say?..."where's the birth certificate?"...lol just kidding, what would you ask?

• United States
9 Oct 09
[b]Well, if He gives me
two
questions, I'll pitch in the one about the BC!

Seriously, though, if I make it to Heaven, I'll immediately
have
the answer to the only question
I'd
ask--one I've been wondering about literally for decades. It's this: Since the Bible says that in Heaven we'll rejoice, & because God made us autonomous (gave us free will to do good or evil), & since some folks I care deeply for
will
choose Hell over Heaven,
how
will I be able to be completely happy,
knowing
they'll suffer? I mean, I don't believe God will mind-wipe us so we won't
remember
our lives. That would contradict the freedom He gave us. Still, I trust Him completely, so I KNOW I'll be happy. I'm just trying to figure out how He'll
accomplish
this particular miracle! (I'm the curious sort, & this kind of conundrum is common in my mind. Holy religious mystery, Batman!

) No-one, & I
mean
NO-ONE
has ever had a satisfactory answer for this question, & frankly, I seriously doubt anyone on this plane
could
! It would
take
God Himself to do it, as His mind is infinitely more complex than ours ever
could
be! Consider: certain scientists have postulated other dimensions, & fantasized how they might behave. One said that in the 8th dimension, one would be able to turn an orange inside out--without breaking the skin. I can picture that
far
more easily than I can imagine how I could be so happy it wouldn't grieve me to think of friends & relatives in hell! It's just something to meditate upon. But if I do make it to Heaven, as I said, I'll know instantly how it's possible, because I'll be
in
that state of bliss, with memory intact. Right now, though, it's a mind-boggling paradox! Maggiepie "WHERE'S THE BIRTH CERTIFICATE?"[/b]

• Australia
9 Oct 09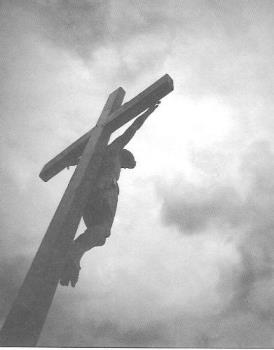 This might not satisfy you, Maggiepie, but we know that when we receive our final redemption we will be "like Christ". We will have His mind and His justice. We will think about these things as God thinks. We will FULLY realise the enormous cost of our redemption and the complete and absolute horror of the perfect Jesus actually becoming sin and bearing the full wrath of God. We will realise the agony of God the Father in seeing Jesus as sin and of pouring His wrath on Him. (No wonder the earth was darkened) I believe that in some way all tears will be wiped from our eyes as we see from God's perspective and we are swallowed up in His love.



• United States
8 Oct 09
What would you say if God turned and said "oh yeah Allah's over there" or something of the like, would your questions change?

• Australia
8 Oct 09
I meet God every day. He is my constant Companion and we communicate all day every day. You see, I have known, loved and served my heavenly Father, the only living and true Creator God, through the Lord Jesus Christ, for 51 of my 73 years. In those 51 years He has been my constant Companion, my Guide and Teacher, my Provider and Sustainer, my Strength and Encouragement - my EVERYTHING. I delight to talk with Him. I delight to read His Word and listen as He talks with me. I look forward to the time when I will meet Him in Person. I will kneel at the feet of my Redeemer and worship Him in purity of heart.

• United States
14 Oct 09
I think it would be intimidating at first. But then I think I would ask him by what method he judges us. Does he judge us based on sins, or does he judge our over all character. Does he watch closely everything or only when we need and ask for guidance. I would ask him how he feels about us in general and if he is generally happy with man kind or generally disappointed.

• Boise, Idaho
8 Oct 09
I would be amazed and unable to speak. The gods are real! Wow!

• India
7 Oct 09
ok nice question.IT is usally ask in miss or mr world contest ok well if i will meet to GOD tonight first i will be glad and surprised but no doubt i will speak to GOD.I will ask GOD that why u made this world where noone loves eachother everyone loves themselves and i want to ask GOD that now it is running in this world that people who does every bad thing they are very happy in comparison those who always worship you and does good work why GOD why? and i want to ask that if whatever has written in my fortune will not be change at any cost so why should i worship you if every sorrow ,every difficulties I have to face just bcz it has written in my fortune why GOD why?