Daily Devotion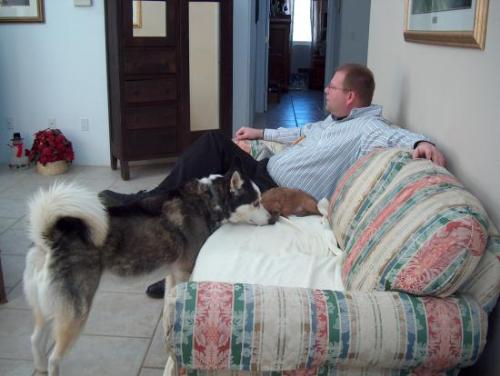 United States
October 7, 2009 10:51pm CST
You only have to be around me for a little while to know that I love dogs. There's just something special about their demeanor and their forgiving nature. Those who are members of our family all have distinct personalities; and most are more than a little spoiled. Regardless of their size, they also all have me pegged as the sucker who will take one look at their big sad eyes, the heads cocked to the side in pretend confusion, and the droopy tails...and give in to whatever they want. Especially Kody Bear; my sister in law's gorgeous Husky who has huge blue eyes and an inquisitive personality. He believes that he is an 80 pound lap dog. And Auntie Paula is all too happy to get down in the floor and let him lay in my lap. I love the soft peppermints that melt away in your mouth. I found very quickly that Kody does too after finding him nosing around in my purse. I had no idea what he was after. I put my purse back up on the bed, and walked out of the room, only to find him a few minutes later with it back down on the floor, trying to get it open. Later that day, Kody was outside in the back yard, when I pulled a mint out of my purse and went to open it. At the first rattle of the cellophane, Kody and his brother Jake were at my feet with their tails wagging. I don't know how they heard the crinkle from outside, much less made it across the entire length of the house and into the bedroom that quickly!Last Christmas, Kody was still just a baby, not even a year old. We had traveled to New Mexico to visit for the holiday, and had taken Baby; our chihuahua/yorkie mix. Kody; nearly 10 times her size, was fascinated with her. He went everywhere she did, and didn't seem to understand why she could get up on the couch, and sit in someone's lap and he couldn't. He went in and out the doggie door and then would sit and wait patiently for her to follow. Baby could go out just fine, but coming in was a problem because her little legs weren't tall enough to make the jump. So being the dutiful friend, Kody would run round and round the house, until someone went to the door and opened it for her to come in! The third canine member of my in-laws household was Rusty. We lost him a little over a year ago. Rusty became Baby's protector. If you've ever been around Huskies, they have a way of "talking" unlike any other dog I've ever seen. When Kody and Jake played too rough, and Baby yelped or whined, Rusty would fuss at the other two. The first day we were there, in order for Baby to eat, we'd have to take her to the bedroom and shut the door. The next day, Baby wandered into the laundry room to get water. Jake followed, and without meaning to be rough, shoved her out of his way. Out of nowhere came Rusty. He growled at Jake, and being the bigger dog forced him from the room. Then he laid across the door and refused to let the other two dogs in...until Baby had gotten a drink. And so began the rituals for the remainder of our visit. I'd put Baby's food down, Rusty would guard the door until she was through eating. If Jake or Kody came near the door, he would growl, bark or fuss at them. Then about day four, I noticed something different. Baby was finished eating, Rusty was still laying across the door, but Baby was curled up with her head on his front legs. His head down over hers, where only her nose peeked out and she was sound asleep, with Rusty keeping watch while she napped. Psalm 91:9-10 says (NIV) If you make the Most High your dwelling— even the LORD, who is my refuge- Then no harm will befall you no disaster will come near your tent. But I really love the way the same verses in The Message read:Yes,when God's your refuge, and you make the High God your very own home, Evil can't get close to you, harm can't get through the door. Just as Baby felt safe enough to sleep under the protection of the bigger dog...What if we had the same faith to simply rest under God's wings of protection? David promises us in the 91st chapter that if we will trust Him, he will cover us. If we will dwell in the Most High...that we can rest in His shadow. If we love him...He will rescue us. If we call on him...He will answer us: be with us in times of trouble, deliver us, and give us long life.
4 responses


• United States
8 Oct 09
Oh Gracious My friend, I certainly did not mean to make you cry. But I do understand how sometimes God speaks to us through other people. I have often wondered how the strangest things could bring me to my knees. Then I step back and realize that God uses the unexpected to accomplish His plans.

•
3 Nov 09
My sister,I think you are a gentle and exquisite girl.You believe God will lead your road ahead,GOD BLESS YOU!I am a chinese boy and I trust GOD since I am in college.Where you are ,we are a family of heaven.

• United States
13 Nov 09
It's wonderful to hear of Christians in China. I know that God is working in your country, despite the difficulties of the physical leaders. Just keep putting your trust in God and know that He is the ultimate leader and will someday give ALL of his children the freedom to worship him around the throne. I look forward to meeting you one day in Heaven, my brother!

• United States
9 Oct 09
Thanks for sharing this devotion, Paula, I enjoyed it very much.

• United States
13 Nov 09
Thanks for your kind words. I have really been struggling of late with what God is trying to tell me about my writing. So it's a blessing to hear words like this. I'm learning to wait and listen before writing, and allow him to guide my words, instead of just writing. Sometimes there will be an event and I'll think "Oh, that would make a great devotion" but God never allows the thoughts to grow anymore.

• Trinidad And Tobago
9 Oct 09
Let's make it short,,Top line ,,and Bottom line,,, I love dogs,,we got a Belgium Shephard now,, female ,, 2 years old,,I am Happy to enjoy the way she is

• United States
13 Nov 09
I thnk if I had the math and science interest and abilities that I would have made an awesome vet! Perhaps when we get my back problems taken care of, I will look into getting a job as a veternary assistant. My daughter worked in the kennel of a vets office during the summer, after her senior year. She loved it, but Miss Tender heart kept bringing home strays to foster. I'm afraid I'd be the same way!