does anyone take a PHOTO of you sees DROOLING OF SALIVA while sleeping?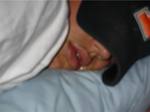 Philippines
October 8, 2009 11:22am CST
my cousin really fun of taking photo of all of my cousin,sister, sees drooling of saliva while sleeping.that is really funny she compile almost all.some of my cousin scold her but at the same time laughing on their photo.do you feel upset when you saw your picture with drooling of saliva while sleeping caught on pictures?do you feel embarrass or angry to the person who took a photo of you while sleeping.my cousin also take a photo of me while sleeping.it seems weirdo they they making funny of looking it.
10 responses

• United States
9 Oct 09
That would have to be an embarrasing photo. It's hard enough for many of us to admit that we drool while we are sleeping. Having someone take a photo of it would always haunt you.

• United States
10 Oct 09
I can see how it would be funny later. When it's happening, it's not.

• Philippines
18 Oct 09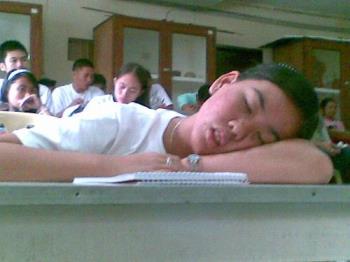 just for the fun of it, my daughter did when her classmate slept but there was no drooling of saliva taking place. the whole class, in fact, keeps watch of who sleeps during the review and takes pictures. they are not angry as they all do it for fun but maybe they are embarrassed especially if u are caught in an uncompromising situation. they take ur pic during a time that u are unaware. if i were the one whose pic was taken, my initial reaction would be anger, next is humiliated.

• United States
11 Oct 09
hi amyson I have never had someone take a picture of me while I was asleep and drooling, but I would be totally embarassed if they ever did. I did have a friend who recorded her roommate snoring and set i as her ringtone. Evertime her roommate called everyone would hear the recording of her snoring

• United States
9 Oct 09
Ya, I have had it done to me. I don't really like it but it happens. My girls and I have an entire section of our scrapbook dedicated to "rest and relaxation". In that section are several photos taken over the years of all of us sleeping. We all do it. There are pics of us sleeping while sitting at the computer, sleeping with books, sleeping on books, on the floor ...on the couch etc. They are not very flattering pics but oh well.

• India
9 Oct 09
I also had this bad experience... One of my friend in hostel did this... and the bad thing is i beat him a lot and he didn't speak with me for a while .. now we are thick friends again... Anyway, what i want to say is , everyone is not the same , so people don't do like these kind of things. because the fun your having is not a real fun , Laugh on grief is not correct... Hey... chill down am i too sensitive...? we should be for sometime...

• India
9 Oct 09
Hi,amy,I didn't have that tye of exerience,but i ersonally took hotograhs while my wife preparing food,before going to bath[irregular hair,oily face..]children fighting with each other.If we see after 3-5 years,they are funny and we enjoy the hotos and the situation happened at that time.Have a nice time.



• China
9 Oct 09
Hello, Amyson, I guess I do not drooling while sleeping, and neither anyone take photo of me when I am sleeping. I do not think that I will be angry if my family member do it just for funny.

And somehow, I think it is interesting and memorable... I keep a photo of my nephew when he was crying, it shows his mouth is watering, his chin are full of saliva and tears... I think it is really funny to keep it and show it to him when he is grow up.


• Garden Grove, California
8 Oct 09
hi amyson I probably would have felt embarrassed too had 'it been me that someone had taken a picture of me while sleeping and drooling. I saw my son fall asleep at his computer and drool but had no camera to catch a picture of him doing this. he he he




• Philippines
8 Oct 09
me too i will feel embarrass and at the same time ashamed too.since many of teenager or grade school children do this for fun.they taking their mother lying on side of the bed drool of saliva and they took a photo just for fun but not to insult her mother.well i laugh myself when my niece took me also wiht my eyes partly close then i drool on my pillow.shes always remind me not to sleep on the side.so i change my position from time to time.




• United States
11 Oct 09
Well mostly my family know's who is watching them sleep and stuff. So it's kind of hard to take pictures of them. You would have to be quiet as a mouse to at least get one shot of it. I just don't think I would get one with saliva. It would be really funny to catch somebody drooling though. hee! ^^