Dukes of Hazzard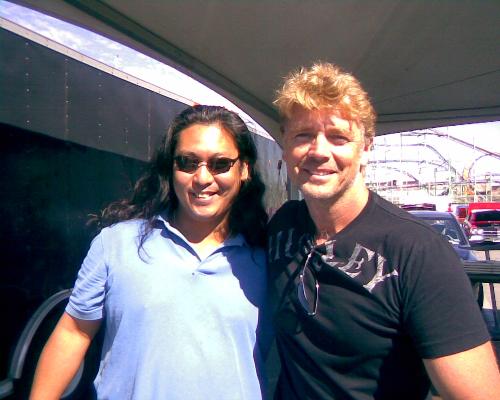 United States
October 8, 2009 1:56pm CST
Anybody remember a t.v. serie called "Dukes of Hazzard"? I'm on my vacation in Ocean City, MD & there's a car show going on right now... I was walking around looking at some cars & realized the guy that played "Bo Dukes" was making a guest appearance. I took a picture with him & got an autograph picture... Now I feel really old. I remember growing up watching the show & some kids now adays never heard of the show. Now he plays dad on tv serie "Smallville" & few other tv shows. Anybody else remember waching Dukes of Hazzard show growing up?
5 responses

• United States
8 Oct 09
You mean John Schneider of course! I just came to impress you with knowing his name! I didn't grow up watching the originally aired shows, but did watch the reruns, my mom loved the show... so we were always watching it. She watched the originals. Tom Wopat was Luke right? Well I'm glad you got to meet Bo! Hope your having fun on vacation!

• United States
8 Oct 09
Thank you for the vacation wishes... I did grow up watching the orginals & it was great meeting the guy... Too bad the whole crew couldn't be there... And yes, John Schneider as Bo & Tom Wopat as Luke... You are good... It's scary to think that I grew up watching the original & here, you're saying your mom watched the originals... That makes me old enough to be somebody's dad, lol...

• United States
8 Oct 09
Lol, there are a lot of old shows I've watched though... and age is just a number, so don't worry about it! lol!

• United States
8 Oct 09
Ha ha ha...!!! Thanks... I do have a daughter but she's only 9 now. She wasn't even thought of when that show came out. Matter in fact, I was about her age when the show first came out aorund late 70's... If I remember correctly when I was talking to John Schneider, he said something like around 78 or 79... I was born 71 so I would've been 7 or 8 years old when I first saw the show... WOW...!!! I sound like my dad now, "when I was your age......!!!!"


• United States
9 Oct 09
Wow that is cool that you got to meet "Bo", my family loves the Dukes of Hazzard. A few years back well I guess quite a few years back we were able to visit Ben Jones Garage when it was located in Virginia still. Two days after we were there they were going to have the whole cast there minus Boss because he had passed by then, we wanted to go so bad but had to get back home as we had already been in VA a week. We were able to me Ben and see the general but it was still really great...I wish there was one closer than Tennessee or Branson because I would love to take my kids to see one of his museums.

• United States
17 Oct 09
No, unfortunately it is no longer there in Virginia. I really wish it was to because I would love to take my kids there to see it but the closest one and only ones are located in Tennessee. Here is a link to the website I have visited numerous times: www.cootersplace.com

• United States
8 Oct 09
I don't remember watching this show, but my husband LOVED it when he was young. We caught old episodes of it on television one night. I cannot remember what channel it was on though. I don't even know if they are still playing the old episodes anymore. I ended up buying him the series on DVD.

• United States
8 Oct 09
I should go out & get one of those DVD sets. I loved the show myself. I remember wanting a CB radio solely because of that show. I thought, "When I grow up & get myself a car, I want a CB radio like they have in their car. Till then, I still want one & put it in my room so I can talk to my friends like they do in the show." My parents pretty much laughed at me but to this day, thinking back on it, I still want one. I'm starting to think more men watched this show than women. May be I should start a pole. And if that's true, I bet Daisy was one of the big reason why so many men watched the show.

• United States
10 Oct 09
You know, it's funny... I saw the dukes of hazzard movie few years back, new one they made... Nothing against Jessica Simpson & I do think she's a very attractive actress/singer... That being said, I've always had a thing about the original "Daisy" of the show... She was pretty AND she could out drive anybody at the time, lol...

• United States
12 Oct 09
I remember the Dukes of Hazzard show. I like it very much and was disappointed when it was cancel. When I watch it I was already growup but love the show.

• United States
11 Oct 09
Hey! Oh my goodness! YES! I loved this show... I would come home after school and make a quick snack and watch the Dukes of Hazzard with my brother and sister! It was something we all loved to do. Did you happen to watch the movie they came out with?

• United States
12 Oct 09
Yes, I saw the movie. I did like it but not as much as the original tv series. Like I responded earlier, I like Jessica Simpson & I think she's a very attractive actress/singer & I do think she has a very nice voice. That being said, I've always liked the original "Daisy" better. For some reason, I don't think Jessica Simpson pull that roll off as good as the original actress did.