I cut my hair and regret it!!!!!!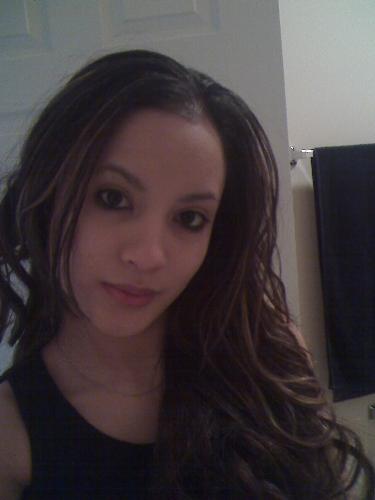 United States
9 responses

• Philippines
14 Oct 09
I always have my hair cut short. I don't like having long hair because my hair is so thick. There were times that I had bad haircuts, and I totally regretted those. But I didn't brood on them much because I knew that my hair would grow back easily. After my hair grew back, I just found a better parlor.


• United States
14 Oct 09
Hi Angela! Well maybe, that is what I need... I ended up going to Super Cuts, the lady didn't even speak any languages that I knew, so communication was tough! But because I wanted a quick drastic change, my regular beautician just had a baby and isn't working yet! Maybe next time! I will just wait for an appointment from somewhere else! Thanks for the response!

• Philippines
14 Oct 09
It must have been really hard communicating to the person who cut your hair the kind of haircut that you wanted because she couldn't even understand a word you were saying. Sometimes there could be misunderstanding between people who speak the same language, so what more if people don't speak the same language?

• United States
14 Oct 09
Tell me about it! I was getting so frustrated with the hair dresser that I felt like cutting my own hair!

• United States
14 Oct 09
It takes some time to get used to. It's hard, though, I understand. I recently cut my hair, too, and it's always a weird adjustment and you never really LIKE it at first unless you have it styled a particular way that you like it. You should give it time, but also experiment around with styles to find a style that you like to wear it. *shrugs*. I had longer hair, which I usually straightened, but now I have shorter hair - and I started scrunching it with mousse, and curling it with an iron. And I realized that while I still miss my longer hair, I found styles that actually go well with the length of my hair, and I like it.

.So, I'm sure you'll get used to it with time..And don't forget that some of the old styles you used to wear may not go well with the new length, so don't be afraid to experiment around! And know that these kinds of adjustments take time!


• United States
14 Oct 09
Hi Maezee! I am trying to experiment! But I always end up not liking it! I guess I have to keep on trying until I find that special one! Thanks for responding!

• United States
14 Oct 09
Yes, I have gotten my hair cut and very much regretted it a long, long time ago. It was cut way too short and way shorter than I'd asked for....horrible. Besides that time, I have always had very long hair. I only got it trimmed once in a while and had my bangs maintained. Because I was getting older, a few years ago, I decided I needed to lose the "hippy" look. I had a really good friend who was a really good hairdresser cut and style it for me. Even though it wasn't short really at shoulder length, it was for me. I felt bald. I instantly had regrets. After a week or so, I found myself actually liking...no...loving it. I just needed to get over the shock and get used to it. I have looked at your pictures and I think that is maybe what you are going thru. Your hair was very long and full. This shorter style is a huge change. Still it is adorable and looks very good on you.

• United States
14 Oct 09
Hi Sid! Thanks for responding! Well I hope I start liking it soon or else I am going to be wearing a wig! lol... Well it only looks cute when its straight! But it takes me such a long time! When I have it with my natural waves I look like a crazy person! At least I know how to fix up my hair for Halloween! Lol... Thanks for responding!

•
13 Oct 09
Your short hair style looks amazing and really suits you.

But I understand about missing your long hair. I have long hair myself and the amount of time it takes to grow really does make you feel really attached to the length and more scared about cutting it. I still can't imagine cutting mine, especially as I've had it cut really short in the past and immediately regretted it! Sometimes it seems when you have short hair all you want is long hair and when you have grown long hair you want to try short hair again

. It is the same with straight and curly hair. Your hair will grow again but for now just enjoy having short hair. Who knows you might grow to love it more than long hair.

• United States
14 Oct 09
Hi tia! Well thanks so much! You made me feel a little better! But it is so true, we always wish for something that we don't have at the time and when we do get it... We want what we had!!!!! lol... Life is just confusing! Thanks for responding!

• Belgium
13 Oct 09
First of all, your hair looks great both long and short, but personally I prefer your short haircut! It looks real great on you, and the fact that it's flat isn't a bad thing. I always want flat hair, but never seem to succeed... I have my hair cut regularly and mostly I regret it in the beginning, but after a couple of days I like it! However, the last time I had a haircut, I loved it a lot. After the first time I washed it, though, I liked it a little less because it didn't really stay flat! Anyway, if you don't like it, in a couple of months it will probably be long and wavy again!

• Southend-On-Sea, England
21 Sep 11
Yes I've had my hair cut in the past and regretted it, but it soon grows back again. Meanwhile, while it's short, could you experiment with different styles to find one that suits?

• Philippines
23 May 11
I think even once in our lives, we made decisions that we soon regret afterwards and cutting our hair is not an exemption. Sometimes if I am tired having my long hair, I had it cut in really short style. If the hairdresser got the style that I want with, I would love it for awhile then as the month's past I can't wait to get it long again because I got tired of the style and the hairs just get into my eyes. It is really irritating. My last visit to the parlor was a disaster.I told the hair dresser that I wanted a layered hair. And when I saw the outcome, I have a lot of tails on my head!

I just have to cut them off by myself when I returned home. Well somehow I got the effect that I want. But I don't want to make cutting my own hair a habit. I still prefer to go to the parlor to have my hair done.

•
24 Aug 10
Woah! this thread was active long time back i see. :) I'm sure that your hair is back to your normal length by now. I cut my hair too. It's way shorter than I thought she would cut it. I regret alottttt. :( Wish that i could turn by time and not make that mistake of chopping it off. *sigh*. Guess I'll have to wait for a very long time for it to grow back. :(

• United States
6 Jan 10
I've never cut my hair. I get it "trimmed" sometimes, but never a more-than-an-inch-cut-off style. I'm a too afraid-y. lol I really want to cut it short, though. Like really short. Like a boy's hair short. The really hard hurdle to get over before I do it is, what if it turns out wrong? I'll be in wigs for a loooong time before it grows back. But still, I want to do it - it's just hair (and it will, eventually, grow back).