cheap shox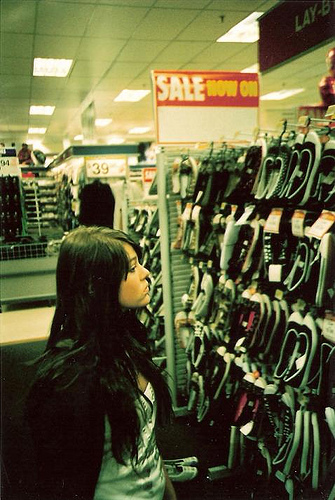 Canada
October 18, 2009 2:54am CST
why do girls now a days love to buy cheap/fake shoes that only last for a week or so? why they don't buy the original/branded one that will last more? if you come to thing of it, they will save more if they buy original/branded one, ayt?
4 responses

•
18 Oct 09
I think the reason why people buy the cheaper ones are because they do not have alot of money and to be honest i would rather have the cheaper ones as then that makes my money go further for my bills and other things that are more important.After all it is only a name of a make some of them last longer that are cheaper where as ok some of them dont.

• Philippines
13 Nov 09
I agree, there are original products where the quality is as good only as the fake ones that are available. I usually feel ripped off when you buy an original product that don't last long. But I don't go for the fake ones either since i'm after the products durability but i tend to compare products from different brands that offer the same product at a lesser price. Cheers!


• China
20 Oct 09

not only girls and not only nowadays. It's unfair to aim only at girls. Everyone is hoping to buy things at a lower price. I never buy fake shoes or bags. Even some are bought after a big big sale, the quality can still be guarenteed. I have never met any shoe problems since I am an adult :)


• Indonesia
18 Oct 09
Not always. People tend to buy cheap things if they are only seasonal. I buy cheap stuffs as well because of that reason, but I do still buy good quality stuffs. You know mode goes fast, you don't want to spend lots of fortune for things that you only wear for a short period of time. After that, they are just out of style. But for neutral things like black bags, I don't mind to spend more money for it.