pumpkin in your place is it as big as this shown in the pic...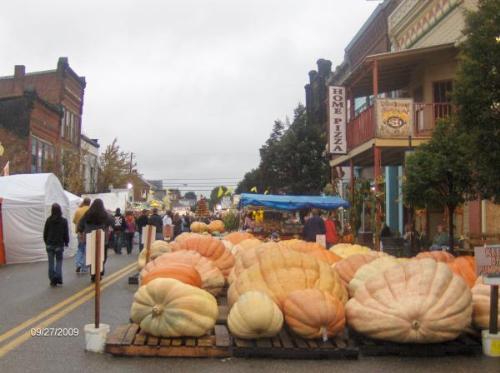 October 21, 2009 10:12am CST
wish we have that giant pumpkin here...that pic from my friend that married a white guy and now shes in the US and took this pic...wonder if you have pumpkin in your place as big as this?
2 responses

• Lancaster, New Hampshire
21 Oct 09
I believe it is a strain called "atlantic giant" and they do get pretty big. The problem is they are mostly for showing. they are too sough and stringy to eat and you pretty much need a chain saw to carve them at this size. I have a few friends who grow and show these things at fairs, I saw one come out that weighed almost 700 Lbs, he had to use his tractor bucket and a chain to load it on to the truck

• Lancaster, New Hampshire
21 Oct 09
well, you can do a lot with pumpkin, just not THESE pumpkins, lol. My favorite is of course pumpkin pie, but you can also cook it like a squash with butter and cinimon, the seeds can also be roasted for a snack. I LOOOOOVE pumpkin bread too.

• Canada
21 Oct 09
Those atlantic giants do grow here. Someone here did grow some this year. I'm more for growing for eating. We harvested 61 pumpkins this year. They ranged in size from the smallest which was about the size of a grapefruit to the biggest which was around fifteen kilos or so. We looked up recipes on line for them because we need to eat them in as many different ways as possible.