Does anyone else like bowling?

United States
October 21, 2009 7:19pm CST
Does anyone else here like bowling? I just recently got into the game and it's actually quite fun and enjoyable. I think the major reason why I'm loving the game so much is because it is the only time when I get to spend time with my siblings. We're all usually so busy doing our own thing that we never get a chance to hang out with each other these days. So, it's really nice to hang out with them once a week while having fun bowling. Anyways, I just started last year so I'm still not very good. I think the best score I've ever had was 157.
11 responses

• Canada
22 Oct 09
I used to like five pin bowling although I have not bowled for many years. The ball in 10 pin bowling is usually too heavy and especially for lighter women and small children it is a struggle, the five pin game is much more enjoyable. It is great light exercise and gives you an opportunity to socialize. unfortunately has a reputation as being a lowbrow form of entertainment which is too bad. I see our local bowling alley is still in business after many decades although I am not sure how busy it is these days. If you enjoy it I would certainly recommend it. It is something regular people can do with a minimum of equipment.


• Canada
23 Oct 09
Five pin bowling is popular in Canada, probably the only game played here. For some reason it never caught on in the USA. It is so much easier to handle the balls because they are a quarter of the weight and need no finger holes. You use the same alleys but have five pins arranged in a V. Scoring is slightly different as you have three balls per frame, and skill is important unlike ten pin where skill and brute force are both necessary. You can potentially score 45 points per frame, so a perfect game is 450 points. http://en.wikipedia.org/wiki/Five-pin_bowling Because the balls are small, young children can participate. You can even get the really young to enjoy the game when you fill the gutters with an inflated tube so they do not roll the inevitable and invariable gutter ball. Of course real bowlers do not do this, it is just for fun for the little ones. There are a few videos on 5-pin bowling on YouTube http://www.youtube.com/watch?v=YKQwQk5dGYA

• United States
22 Oct 09
BOWLING!!! DID YOU MENTION BOWLING!!! Bowling is the greatest sport to participate. Where in any other sport could you level the playing field of experience and skill and have fun doing it??? I used to bowl in leagues and tornaments. May I suggest entering in one of those at your local bowling alley??? You make friends and improve your game and make $$$ (check out the particulars before considering) the highest I've bowled was a 160 and my average is about a 130.

• United States
22 Oct 09
Bowling in a league sounds really exciting. My brother is working on setting on up so I think I'll wait to join his. 130 is a nice average to have. I'm still barely scraping by with 100 most games. Hopefully my numbers will go up as I start playing more.

• United States
31 Oct 09
Leagues are something to think about. Most leagues start around August September. There are also summer leagues you can check out when it gets closer. Most bowling alleys have leagues. Remember that even if you don't bowl so well, it is still fun. All leagues that I have bowled in have always been handicap leagues so even if you don't have a high average, you can still have a chance of winning some game as it usually evens it out.

• United States
22 Oct 09
Oh yes I like bowling, it's the only sport that I go into. This is my and my husband's favorite pastime. I'm not really great at it but I love it just the same. Now my 6 year-old son is also into bowling, but he plays the ones in amusement centers with smaller balls(are they called duck pins?) and shorter lanes designed for kids.

• United States
22 Oct 09
I think this is one sport that you don't have to be great at to enjoy. I'm glad that your son is getting into the game. This game is definitely for people of all ages. I've seen lots of little kids bowling with the guard rails up. It's really cute to watch.

• United States
31 Oct 09
When I was a kid, they didn't have them. I had to learn how to keep the ball on the lanes.

• Philippines
22 Oct 09
Wow 157 is high already in my opinion. The best score I had when I played with my husband was 139. The worst score I had when I played with my officemates was 78. I am such a lousy bowler but I always had fun playing because we tease each other on how a lousy bowler each one of us. I started playing with my officemates when we felt like we were all stressed out. One suggested that we play bowling and since then, bowling has been one of our choices when we want to unwind. The only downside is that it is VERY expensive. We really have to save just to be able to play 5 games in a row. But overall, I love this game because it will develop our concentration, discipline and friendship with our colleagues as well.

• United States
23 Oct 09
That's the great thing about bowling, you don't have to be good at it to enjoy it. I suppose it would be expensive but luckily the local bowling alley has these daily specials that are quite affordable. I don't think I'd be able to play as often if they charged per game. I think the worst ever score I got was somewhere in the 40s. My little brother was trying to teach me how to bowl like him (you hold it like a football and toss it down the lane while using a spin) and I ended up tossing it in the gutter half the time. But it was still kind of funny to watch me do it and my siblings got a good laugh out of it. I guess it was worth the humiliation.

• United States
22 Oct 09
Yes, I love bowling! One of the best things about bowling is that it is a wonderful way to socialize and have fun with people even siblings. Even if you are not that competitive, you can still have fun bowling with all the entertainment going on in a bowling alley. Now a days they are called entertainment centers where you can bowl, play video games, watch bands play, sing karoake, dance, dine, etc. What you may want to do since you don't get to hang out with your siblings that much is to join a bowling league so there is a commitment for a few months to seeing them. In addition, you may network with opposing team members that may turn into business relationships, friendships, or companionship! Have fun bowling and stay away from the gutter!

• United States
22 Oct 09
Thanks for the advice. Our local bowling alley always has some kind of special discount thing going on so it always keeps us going back. Examples would be paying $8 to bowl all night, Rock n Bowl night (the lights are off and disco lights are flashing all over the place), 25 cent Wednesdays (almost everything cost 25 cents, from games to food and drinks) and others. My siblings and I have been pretty good with hanging out every Sunday at the bowling alley. And we have been considering the league part too.

•
22 Oct 09
I like bowling, one of the few sports I could actually play in addition to badminton. It is a great sport to play with the family, not stressful and does not require a lot of energy. You can chat while the others play. However, I haven't bowled in years though I intend to correct this soon. My kids are now old enough to take the balls in their hands, I will suggest a bowling activity next weekend. Thanks for reminding me of this sport.

• United States
22 Oct 09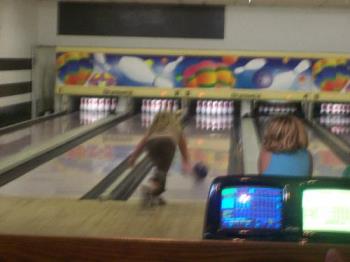 You are a whole lot better than I am!

It is nice to hear that you and your siblings have found something like this to do together. Personally, I enjoy bowling although I do not do it very often. I am not really a good bowler. I did have some people try to get me to join a bowling league because they were short on people but there is just no way I could do it. My 8 year old daughter is on a youth bowling league that bowls on every Saturday and I believe her highest score was 145. She loves bowling and I'm happy that her father and I (who are no longer together) have agreed to split the cost for her to do this. I think it is a blessing to get to support her in something that she loves.

• United States
22 Oct 09
That's great. And thanks for sharing the pic of your daughter bowling. It's great that she has found something she loves at such a young age. And 145 is a pretty impressive score. My brother is trying to start up a bowling league and he wants me to join. I'm still indecisive because I feel that I'm not that good. Maybe after I get a bit more practice.


• United States
31 Oct 09
I think I have bowling since I could walk I think. I hardly know a time that I did not bowl. When I was old enough, I did join the children's league when I was a kid. I think it has been about 5 years since I had bowled in a league and this year, I went back to bowling in the league. I started with about 100 average and have managed to get back up to my 120 average that I used to carry. Friday nights are my league night and I had a decent night. The lanes are usually a bit more slicker on leagues than they are on open bowling. Some other things to think about if you ever decide to go that route or bowl quite often is that you should get your own bowling ball and shoes as your score will improve. A bowling ball you buy will be fit to you rather than getting stuck with whatever the alley, plus the bowling shoes are more comfortable if you have your own. My highest ever is a 189. This bowling season so far is a 178.

• Philippines
22 Oct 09
Good day. Well, I do like playing bowling. My family and I used to play this game. I am also playing this together with my friends. Though this game is quite expensive, this game is very good. I can say this because, a bowling game creates a healthy impact on our blood circulation system. If you are born with a hypertension or the blood sugar is not in normal phase, well, I do suggest that you play bowling at least once a month. Bowling game is a type of game wherein almost all of your body system is working. Aside from that, you can also consider the game as your exercise. If you are not that really enthusiastic in doing the exercise, playing bowling is good exercise in our body.