Does anyone believe in alienns?

Romania
November 14, 2006 10:22am CST
i don't know what to belive ...
7 responses



• Romania
14 Nov 06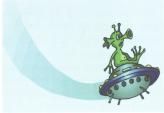 All of us know that UFO means Unidentified Flying Object, but we tend to forget that all that means is that the observers do not understand what they are looking at. It does not mean that an Extra Terrestrial Intelligence (ETI) is behind the UFO. Most Americans do not understand much of what they see in the sky. I was always amazed when I taught astronomy to my students how little they knew and how many misconceptions they had. Atmospheric phenomena like sun dogs, storm phenomena like ball lightning and stratospheric discharge, astronomical phenomena like auroras, meteorite storms and bolloids are all things that many of us are not familiar with. The use of man made objects like weather balloons, test aircraft, reentry vehicles from space not to mention practical jokes also deceive many people. Between 1947 and 1969, there were 12,618 sightings reported to civil authorities, and 11,917 of them (94%) have been identified and explained by natural phenomena or man-made influences. The fact that we do not know what something is that we see in the sky, does not automatically mean that there is an alien involved, and in fact it is obvious that most of the time it is a case of the observer simply not being informed about the world around them. There is no hard evidence that there is any ETI at the present time.