Do you own a Harley Davidson motorcycle?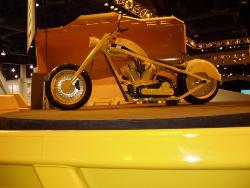 United States
November 14, 2006 10:31am CST
I personally don't own one, but my partner does. We go for rides occasionally. The seat is pretty uncomfortable for me, so we don't go far. As far a women owning a Harley, my personal opinion, is that there are just some things that are for boys only, and driving a Harley is one of them. People of all walks of life own Harley Davidsons. It is amazing how that has evolved over the years.
6 responses


• Trinidad And Tobago
21 Nov 06
No, I don't own one. I do like motorcycles though. I can't imagine how a seat that's uncomfortable for you could be okay with your guy. Guys have more delicate packaging there. Anyway I guess it's a mind over matter thing.

• United States
21 Nov 06
When my dad retired, he bought a Harley and added a sidecar to it for my mom to be able to ride in comfort. They have taken 2 trips across the US and they love it. Dad is a road captain in the local HOG chapter.

• Canada
14 Nov 06
No I do not own a Harley Davidson bike. Growing up my dad had bikes but not a harley either.